Iran strikes sweet victory against Canada
Iran strikes sweet victory against Canada ...
en.mehrnews.com
29/05/2016 Sports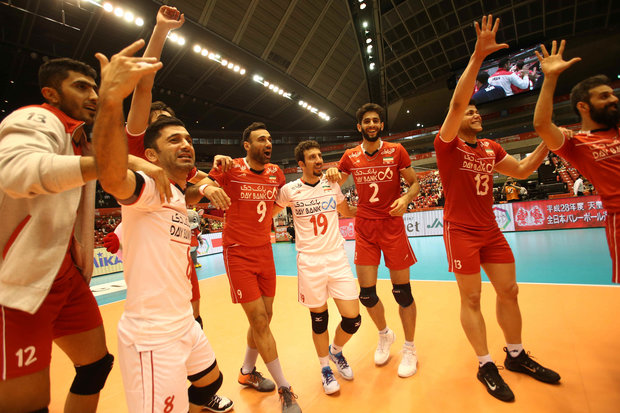 Keywords:#Adel_Gholami, #Amir_Ghafour, #Australia, #Canada, #Canadian, #En.mehrnews.com, #Farhad, #Farhad_Zarif, #France, #Iran, #Iranian, #Japan, #Japanese, #MNA, #Metropolitan, #Metropolitan_Gymnasium, #Milad, #Milad_Ebadipour, #Mousavi, #Olympic, #Olympic_Games, #Olympic_Qualification, #Qualification_Tournament, #Rio_2016, #Tokyo, #Volleyball

News ID: 3670670 - Sun 29 May 2016 - 09:06
Sports
TEHRAN, May 29 (MNA) – Iran's national volleyball team took the tie-break win 3-2 against Canada on Sunday at the 2016 Olymic men's volleyball qualifier in Tokyo, Japan.
Volleyball players of Iran and Canada lined up against each other this morning in their second match at the Asian Olympic Qualification Tournament held at Metropolitan Gymnasium in Japanese capital Tokyo, where No. 8 Iran defeated Canada, ranked No. 10 in the world, 3-2. The Canadian outfit won the first two sets 29-27, and 25-19, but Iran's squad made a powerful return in the next three sets and defeated their rival 25-20, 21-16 and 16-14.
Saeid Maarouf, Amir Ghafour, Seyed Mohammad Mousavi, Adel Gholami, Milad Ebadipour, Mojtaba Mirzajanpour, and popular libero Farhad Zarif made the team composition in the first set.
Iran's Milad Ebadipour was named the top scorer of the match with 26 points. Gavin Schmitt was Australia's top scorer with 27.
Iran took its first step toward Rio 2016 Olympic Games by trouncing Australia in straight sets on Saturday.
The Iranian outfit currently stands at the first place with 5 points, followed by France and Japan each with 3 points.
Iran will take on France men's national volleyball team in their third match on Tuesday.
--- ---
...

Related articles based on keyword density
Iran's volleyball snares historic Olympic berth after 52 years ...
en.mehrnews.com 05/06/2016 Sports
News ID: 3676230 - Sat 4 June 2016 - 16:02 Sports TEHRAN, Jun. 04 (MNA) – Iran national volleyball team beat Poland at the 2016 Olympic men's volleyb...View Details»

Poland secure Rio 2016 spot, as France and Iran gain ground...
fivb.com 03/06/2016 Sports
*** Poland clinched an Olympic berth after they defeated Venezuela in straight sets Tokyo, Japan, June 1, 2016 – Undefeated Poland claimed the first ...View Details»

Iran Volleyball Defeats Australia in Straight Set at Olympics Qualifie...
tasnimnews.com 28/05/2016 Sports
TEHRAN (Tasnim) – Iran beat Australia 3-0 (25-19, 25-17, 25-18) on day 1 of the Men's World Olympic Qualification Tournament for Rio 2016 Olympics in...View Details»

Iran cedes Olympic qualifier to France ...
presstv.ir 30/05/2016 Sports
*** The photo shows a view of the match between Iran (players in dark blue) and France at the Men's World Olympic Qualification Tournament in Tokyo, J...View Details»

Iran Volleyball Team Defeats Japan in Olympics Qualifier ...
tasnimnews.com 01/06/2016 Sports
TEHRAN (Tasnim) – Iran beat Japan 3-1 (20 – 25, 25 – 19, 22 – 25, 25 – 27) at the Men's World Olympic Qualification Tournament at Tokyo Metropolitan ...View Details»

---
EOF