Asiatic cheetah fine almost 16-fold
Asiatic cheetah fine almost 16-fold ...
en.mehrnews.com
24/05/2015 Nature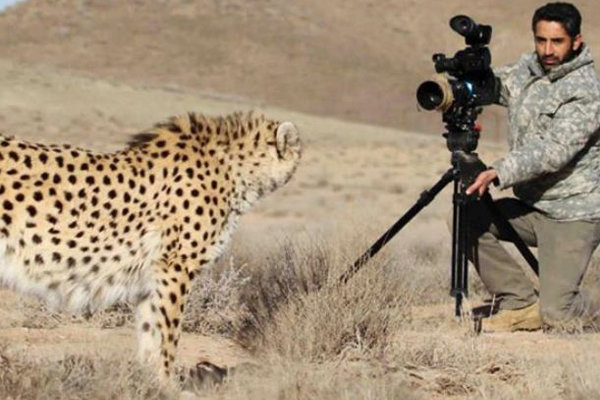 Keywords:#2015, #Asiatic_cheetah, #Culture, #Department_of_Environment, #En.mehrnews.com, #Environment, #Golestan, #Hunting, #Iranian, #Lorestan, #MNA, #Mehr_News, #News, #Persian, #Saturday, #Semnan, #Yazd, #Zanjan

News ID: 2758523 - Sat 23 May 2015 - 23:05
Culture
TEHRAN, May 23 (MNA) – The Director-General of Department of Environmental Protection and Hunting and Fishing Management has said the amount of damage to be claimed for wildlife hunting will be public by a week.
Ali Teimouri told Mehr News on Saturday that the Section H of Article 3 of Hunting and Game Law approved by the High Council of Environment in last March, had been finalized by the secretariat of the Council; according to the Section, the damage to be claimed for hunting of wildlife and endangered species would be set and multiplied; "the provincial governor will have a say in setting the amount of damage whose provinces have high statistics of the illegal hunting, with Zanjan, Yazd, Semnan, Golestan and Lorestan provinces setting their provisional amount of damage," Teimouri told Mehr News.
"A panel of wildlife experts and observers' expert advice has been taken into account in setting the damage, which has been proportionate to the crimes committed and the wildlife species hunted; a session with Department of Environment presented the proposals to the Department by the Council for further examination," said the director-general, "the damage to be claimed will be in the most probability announced within a week."
"The Section H brings to the spotlight near-extinction species and has set higher amount of damage for these animals; for domestic animals and pets, lower amounts have been set, bringing a balance to previous amounts which were disproportionately high," Teimouri added.
"According to the Section H, Iranian leopard (Panthera pardus saxicolor) experienced the highest rise in the damage claimed by the Department of Environment, up from mere $1,515 to $24,000 seeing almost 16-fold rise; Asiatic cheetah (Acinonyx jubatus venaticus) found a damage amount up from $6,000 to $30,000," Teimouri detailed.
"The damage amount for illegal hunting of brown bear was set to $15,000; Persian fallow deer (Dama dama mesopotamica) found a price of $18,000; and Ibex and chamois were set to a damage amount of $10,600," he added.
------
...

Related articles based on keyword density
UN envoy in Iran: Asiatic cheetah extinction trend reversed ...
en.mehrnews.com 07/12/2015 Nature
News ID: 2993047 - Sun 6 December 2015 - 20:18 Culture TEHRAN, Dec. 06 (MNA) – UN resident coordinator in Iran has said cooperation between Department...View Details»

Oshtornakouh; a safe refuge for Persian Leopard ...
en.mehrnews.com 26/01/2017 Nature
News ID: 3887271 - Wed 25 January 2017 - 13:36 Culture KHORRAMABAD, Jan. 25 (MNA) – Oshtorankouh or Sanowbaran, a part of Zagros massifs with breath-...View Details»

Another Asiatic cheetah sighted in Yazd ...
en.mehrnews.com 07/12/2014 Nature
Another Asiatic cheetah sighted in Yazd YAZD, Dec. 07 (MNA) – Director of Iranian Cheetah Society has announced the sighting and registering of anothe...View Details»

Fourth Persian leopard found dead ...
en.mehrnews.com 13/06/2015 Nature
News ID: 2776488 - Thu 11 June 2015 - 15:59 Culture BOJNORD, Jun. 11 (MNA) – Head of North Khorasan provincial Department of Environment office has a...View Details»

Parliament allocates $ 17m to save Lake Urmia ...
en.mehrnews.com 18/01/2014 Nature
TEHRAN, Jan. 15 (MNA) – Parliament environmentalist faction spokesman has said Parliament allocates $ 17m to save Lake Urmia. Moayyed Hosseini Sadr t...View Details»

---
EOF