Missile display & Trump's effigies burning: Tehran marks US embassy takeover ...
rt.com
05/11/2017 Politics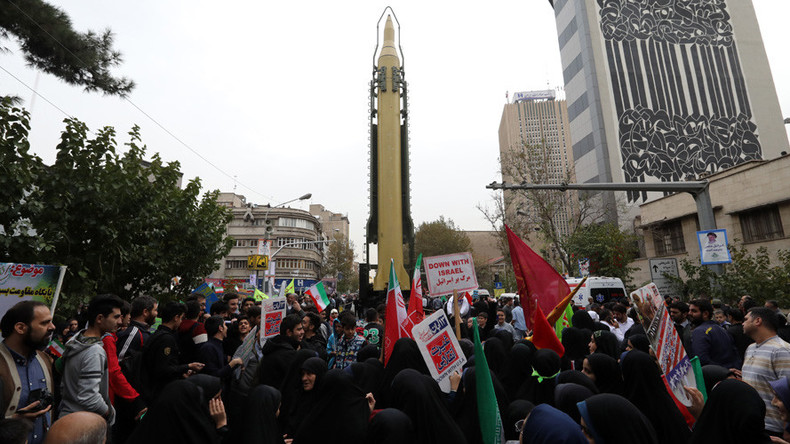 Keywords:#2015, #AFP, #Ali_Khamenei, #Ali_Shamkhani, #American, #Arabia, #Ayatollah, #Ayatollah_Ali_Khamenei, #Ayatollah_Khamenei, #Benjamin_Netanyahu, #China, #Donald_Trump, #France, #Germany, #Global_Arrogance, #Iran, #Iranian, #Islamic, #Islamic_Republic, #Israel, #Khamenei, #King_Salman, #National_Security_Council, #Netanyahu, #Rt.com, #Russia, #Saudi, #Saudi_Arabia, #Security_Council, #Supreme_Leader, #Supreme_National_Security_Council, #Tehran, #Trump, #UK, #US, #USA, #Washington

Thousands of Iranians came to a former US embassy in Tehran to rally against American president's "crazy" policy and "global arrogance." A ballistic missile was put on display, as protesters burned American flags and Trump's effigies.
Iranians gather next to a replica of a Ghadr medium-range ballistic missile during a demonstration outside the former US embassy in the Iranian capital Tehran on November 4, 2017 © ATTA KENARE / AFP

* * * Hovering above the rallying crowd, multiple banners could be seen reading "Down with the USA" and "Go to hell," with the upturned images of the US president, Israel's Benjamin Netanyahu and Saudi Arabia's King Salman.
"All the governments confirm that the American president is a crazy individual who is taking others toward the direction of suicide," Ali Shamkhani, secretary of the Supreme National Security Council, said, addressing the crowd. "Trump's policies against the people of Iran have brought them out into the streets today".
"And when a missile is tested thousands of kilometers away, after [issuing empty] threats, all their president does is put out a tweet," the secretary added.
A giant banner behind his back showed Donald Trump, and ran a quote from the Supreme leader of Iran, Ayatollah Khamenei: "The American elite feel ashamed of having such a president." A Ghadr ballistic missile with a range of 2,000 km (1,240 miles) was put on display at the demonstration.
On Satuday, Iran marked both the Student Day and the National Day against "Global Arrogance," which commemorate the 1979 US embassy takeover. Thirty eight years ago, student activists stormed the US diplomatic compound, taking 52 embassy staff hostage. The 444-day siege led the two nations cutting the ties, not having restored relations to this day.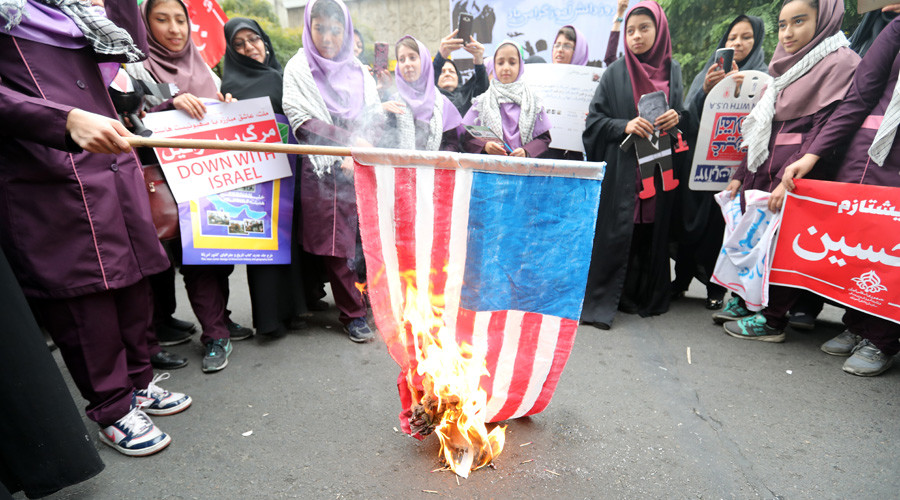 Iranian women light a US flag on fire outside the former US embassy in the Iranian capital Tehran on November 4, 2017 © ATTA KENARE / AFP

* * * Tensions reached a boiling point, after president Trump refused to certify the Islamic Republic's compliance with the 2015 nuclear deal in mid-October. While the US leader repeatedly threatened to rip it up in the past, Tehran stated it wouldn't pull out of the agreement. Meanwhile, other signatories to the pact, including Russia, China, Germany, France and the UK, have all warned Trump against breaking up the deal.
In a recent remark, Iran's Supreme Leader Ayatollah Ali Khamenei called Washington Iran's "number one enemy," accusing it of "bullying" over the deal and "holding grudges" against "a tireless and resilient nation."
--- ---
...

Related articles based on keyword density
IRAN NUCLEAR TALKS STUMBLE, EXTENDED UNTIL JULY ...
hosted.ap.org 24/11/2014 News
BY MATTHEW LEE AND GEORGE JAHN ASSOCIATED PRESS VIENNA (AP) -- Still facing significant differences between the U.S. and Iran, negotiators gave up on...View Details»

GLOBAL TOP 1000 WEBSITES 2016 – Ratak IT...
ratak.ir 16/03/2017 News
Ratak introduces global Top Websites of 2016 Data for table Top201702 1 1host2u.ir 1host2u.ir,Abarkooh,Armenia,Bahram 2,Bahram 3,Britain,Caesar,Carus,...View Details»

Media Scam? Iran and America Join Hands in Waging "The Global War on T...
globalresearch.ca 01/07/2014 Politics
By Prof Michel Chossudovsky Global Research, June 21, 2014 Following the incursion of jihadist rebels of the Islamic State of Iraq and the Levant (IS...View Details»

Middle East - Security Council debates ending UN sanctions on Iran - ...
france24.com 13/03/2015 News
Major world powers have begun talks about a UN Security Council resolution to lift UN sanctions on Iran if a nuclear agreement is struck with Tehran, ...View Details»

ISIS: The Spoils of the "Great Loot" in the Middle East - FPIF...
fpif.org 02/07/2014 Politics
Adding yet more warfare to the current crisis in the Middle East will perpetuate exactly what the imperial powers set out to do: tear an entire region...View Details»

---
EOF