Terror funding report: Calls grow for release of 'sensitive' Home Office document 'pointing finger at Saudi Arabia'
Terror funding report: Calls grow for release of 'sensitive' Home Office document 'pointing finger at Saudi Arabia' ...
independent.co.uk
07/07/2017 News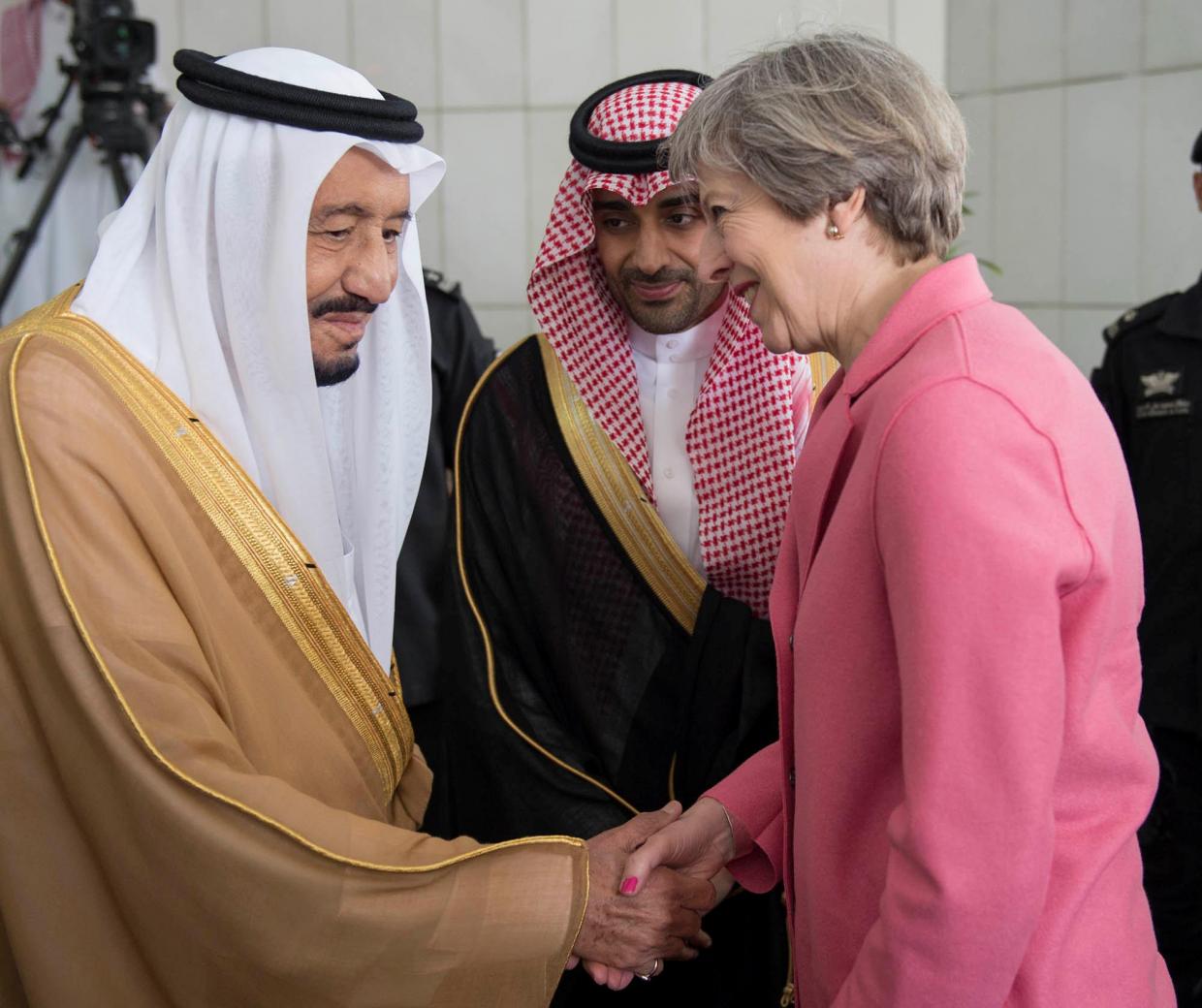 Keywords:#2015, #Arabia, #Arms, #Beirut, #British, #Cameron, #Culture, #David_Cameron, #Government, #Guardian, #Independent.co.uk, #King_Salman, #London, #London_Bridge, #Manchester, #Middle_East, #Prime_Minister, #Radio, #Reuters, #Riyadh, #Saturday, #Saudi, #Saudi_Arabia, #Sunni, #Syria, #Terror, #The_Guardian, #Theresa_May, #UK, #Yemen
Jeremy Corbyn and Tim Farron among voices urging prime minister to publish delayed inquiry thought to target major UK weapons buyer following latest terror attack on British soil
Bethan McKernan Beirut @mck_beth Monday 5 June 2017
Theresa May meets King Salman bin Abdulaziz Al Saud during her visit to Riyadh in April Reuters

* * * The leaders of the Labour Party and the Liberal Democrats have urged Prime Minister Theresa May to allow the publication of a "sensitive" government report into terror funding in the UK which allegedly focuses on the role of Saudi Arabia.
Calls for the release of the Home Office inquiry into the sources of jihadi propaganda materials and funding are growing more vocal after Saturday's terror attack in London Bridge, in which seven people were killed.
Isis, which espouses an extremist version of the puritanical Sunni Wahabism practised in Saudi Arabia, claimed responsibility for the incident, the third terror attack on British soil in less than three months.
Speaking in Carlisle on Sunday evening, Labour leader Jeremy Corbyn echoed Ms May's comments that the UK needs to "have some difficult conversations" - adding that they need to start with "Saudi Arabia and other Gulf states that have funded and fuelled extremist ideology."
"It is no good Theresa May suppressing a report into the foreign funding of extremist groups. We have to get serious about cutting off the funding to these terror networks, including Isis here and in the Middle East."
Writing in The Guardian on Monday, the Liberal Democrat leader also called for the report's release.
"Theresa May now has a choice. Does she publish that report or keep it hidden?" Mr Farron said.
"May talks of the need to have some difficult and sometimes embarrassing conversations. That should include exposing and rooting out the source funding of terror, even it means difficult and embarrassing conversations with those like Saudi Arabia that the Government claims are our allies."
The Conservative Government has been repeatedly criticised for increased arms sales to Riyadh, the top destination for UK-made weapons: recent British arms export licences sold to the Gulf state exceed £3.5bn. Critics say those weapons are fuelling conflict and extremism across the Middle East, including in Yemen.
The inquiry was commissioned by David Cameron at the insistence of the Liberal Democrats in exchange for their support of extending UK air strikes against Isis into Syria in December 2015.
It was supposed to be published by spring 2016 – but it is still incomplete and may never see the light of day due to its "sensitive" content, a Home Office source told The Guardian last month.
Talking about the delayed report on Radio 4's Today programme on Monday, Culture Secretary Karen Bradley said that to suggest "[the Government] is not taking terrorist financing seriously is ridiculous."
When asked whether the British people have a right to know whether the report "points the finger" at Riyadh, Ms Bradley responded that the UK must "work with our partners and our allies" and that "we save far more lives by working together."
Earlier in the programme, Hannah Stewart, co-head of the security and extremism unit at think tank Policy Exchange, also called on the authorities to release the overdue inquiry.
Over the years literature considered "intolerant at least and in some cases extremist" had been found in British mosques which could be directly traced back to Saudi publishers, she said.
"The Saudi regime has one of the most appalling human rights records in the world. If it has played any role in funding or fuelling terrorism or violent groups then we must know. The report must be published, no matter who it is embarrassing for," Andrew Smith of the Campaign Against Arms Trade told The Independent.
"Regardless of who is elected on Thursday, if the UK is to play a positive role in the Middle East, then it must finally stop arming and supporting brutal dictatorships like Saudi Arabia."
The Conservatives, Labour and Liberal Democrats suspended election campaigning on Sunday in the wake of the latest terror attack.
On Monday morning Ms May said it had been "right to pause" out of respect for the victims. Full campaigning is expected to resume later on Monday, with the general election just three days away.
Already a major election topic, the authorities' ability to deal with terror threats has become one of the driving issues of the 2017 campaign after the recent deaths of 34 civilians in incidents in Westminster, Manchester and London Bridge.
--- ---
...

Related articles based on keyword density
GLOBAL TOP 1000 WEBSITES 2016 – Ratak IT...
ratak.ir 16/03/2017 News
Ratak introduces global Top Websites of 2016 Data for table Top201702 1 1host2u.ir 1host2u.ir,Abarkooh,Armenia,Bahram 2,Bahram 3,Britain,Caesar,Carus,...View Details»

ISIS: The Spoils of the "Great Loot" in the Middle East - FPIF...
fpif.org 02/07/2014 Politics
Adding yet more warfare to the current crisis in the Middle East will perpetuate exactly what the imperial powers set out to do: tear an entire region...View Details»

Why Saudi Arabia Gets Away With Murder ...
thedailybeast.com 11/10/2015 Military
By Jay Michaelson OUR FRIENDS IN RIYADH10.09.151:00 AM ET Why Saudi Arabia Gets Away With Murder The kingdom is set to execute a young man for partici...View Details»

Media Scam? Iran and America Join Hands in Waging "The Global War on T...
globalresearch.ca 01/07/2014 Politics
By Prof Michel Chossudovsky Global Research, June 21, 2014 Following the incursion of jihadist rebels of the Islamic State of Iraq and the Levant (IS...View Details»

Terror Bombing in Brussels and Paris: Europe's "Islamist Legionnaires"...
globalresearch.ca 09/04/2016 Military
By Prof. James Petras Global Research, April 08, 2016 *** Osama bin Laden with President Carter's National Security Advisor Zbigniew Brzezinzki The t...View Details»

---
EOF