Boeing Gets OK to Enter Iran Market (NYSE: BA) - 24/7 Wall St....
247wallst.com
20/02/2016 Auto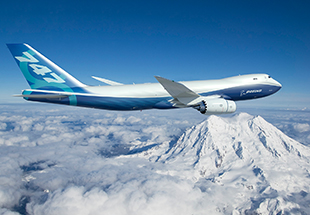 Keywords:#Airways, #Asia, #Bloomberg, #Boeing, #China, #Guinea, #Iran, #Iran_Air, #Iranian, #Papua, #Papua_New_Guinea, #Singapore
By Paul Ausick February 19, 2016 1:15 pm EST
Nearly three weeks after archrival Airbus announced an order from Iran Air for 118 new jets valued at $27 billion, Boeing Co. (NYSE: BA) has received the go-ahead from the U.S. government to resume talking to approved Iranian carriers about possible sales. Boeing received permission to sell airplane parts to Iranian airlines in 2014, and the approval the company received Friday will require a separate license before any sales are completed.
Iran has been barred from buying new aircraft from Western makers since the 1970s, and demand for new planes could be as high as 500 planes, at a rate of 50 planes a year for a decade.
Iran Air also includes six Boeing 747s in its fleet, and the average age of the four 747-200s is 35.1 years and the average age of the two 747SPs is 37.8 years. An Iranian official noted last month that the airline is considering adding Boeing 737s and 777s to its fleet.
With the lifting of sanctions on Iran, the country is once more able to export oil, its main source of income, even though the price of crude is near multiyear lows. There is no guarantee that Boeing will take any order from Iranian carriers, nor is it a cinch that any or all the orders will be fulfilled. There is even the possibility that the sanctions could be reimposed by a future U.S. president.
The current Iranian fleet numbers about 160 planes, according to a report at Bloomberg News, and Iran Air's fleet numbers 45, according to Planespotters.net. The average age of an Iran Air plane is 26.9 years, with the youngest being six Airbus A320s that are just over 20 years old. The 747s are the oldest planes in the airline's fleet.
Of more concern to investors on Friday, however, was the low number of orders that materialized at this week's Singapore Airshow. Boeing wrote orders for a total of around $1.75 billion from China's Okay Airways and Papua New Guinea's Air Niugini. At the 2014 Singapore show, Asia's largest, aircraft makers took orders valued at $32 billion, compared with deals worth $12.3 billion at this year's show.
Boeing stock traded down about 2.2% at $115.03 at the end of the noon hour Friday. The stock's 52-week range is $102.10 to $158.83.
By Paul Ausick

---Boeing has received the go-ahead from the U.S. government to resume talking to approved Iranian carriers about possible sales. ---
...

Related articles based on keyword density
Starting From £212! Cheap flights to Iran - Travelhouseuk...
travelhouseuk.co.uk 14/03/2015 Auto
Cheap Flights to Iran Get to observe the hidden gem of Asia, pursue cheap flights to Iran to secure an exotic holiday well within your budget. One of ...View Details»

GLOBAL TOP 1000 WEBSITES 2016 – Ratak IT...
ratak.ir 16/03/2017 News
Ratak introduces global Top Websites of 2016 Data for table Top201702 1 1host2u.ir 1host2u.ir,Abarkooh,Armenia,Bahram 2,Bahram 3,Britain,Caesar,Carus,...View Details»

Iran Plans Higher Fees for Riskier Oil Fields in New Accords Iran Plan...
bloomberg.com 25/02/2014 Economy
By Golnar Motevalli and Anthony DiPaola Feb 24, 2014 Iran will offer foreign partners incentives to find and pump more crude and natural gas and will ...View Details»

Iran's Zarif signs Paris Agreement on climate change ...
presstv.ir 23/04/2016 Nature
*** Iranian Foreign Minister Mohammad Javad Zarif signs the Paris Agreement on climate change during a ceremony at the United Nations headquarters in ...View Details»

Air France resumes flights to Iran after headscarf fight ...
next.ft.com 15/04/2016 Auto
Female staff who object to covering their heads will be allowed refuse to work the routes by: Najmeh Bozorgmehr in Tehran, Michael Stothard in Paris a...View Details»

---
EOF