Iranian Exiles Are Having Second Thoughts - Bloomberg Business
Iranian Exiles Are Having Second Thoughts - Bloomberg Business...
bloomberg.com
07/08/2015 Politics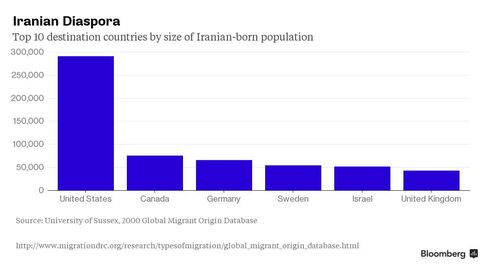 Keywords:#2015, #Ali_Khamenei, #Ayatollah, #Ayatollah_Ali_Khamenei, #Bloomberg, #Bloomberg.com, #California, #Canada, #Deutsche, #Deutsche_Bank, #Foreign_Minister, #Hassan_Rouhani, #Internet, #Iran, #Iranian, #Khamenei, #Ladane, #Ladane_Nasseri, #London, #Ph.D, #Pirouz, #President, #Revolutionary_Guards, #Rouhani, #Rouzbeh_Pirouz, #Science, #Silicon, #Silicon_Valley, #Stanford, #Supreme_Leader, #Tehran, #Tehrangeles, #Turquoise, #Turquoise_Partners, #Twitter, #Washington, #Washington_D.C
by Ladane Nasseri
August 6, 2015
– Xanyar Kamangar feared he was out of luck. Due to fly from London to Tehran last month to host foreign investors, he had lost his Iranian passport. A new one would take seven weeks.
The consul general agreed to see the 39-year-old, who had left a career with Deutsche Bank AG to co-found a Tehran-based investment firm, believing his native country would soon open for business after years of sanctions and isolation.
"The consul called his aide and said 'Let's help this young man help the country,'" Kamangar recalled. "The passport was issued in 16 minutes."
For years after the 1979 revolution, Iranians who left were dismissed as traitors and those who returned often treated as outsiders. Hundreds of thousands moved to southern California, dubbed their new city Tehrangeles, and didn't look back.
But following the 2013 election of President Hassan Rouhani, a moderate, and his government's success in reaching a nuclear accord with world powers last month aimed at lifting international sanctions, a shift has begun.
Rouhani has made a point of saying the government "extends its hands" to the diaspora, considers overseas Iranians "assets" and called for regulations to facilitate their return. Iranians are responding -- going back not only to visit but also to invest and even settle.
There is clear evidence of this in Iranian consulates, where revenue in this year's budget "has doubled even compared to last year," Deputy Foreign Minister Hassan Ghashghavi said in an interview in his Tehran office.
Seven Million Abroad
The government estimates that as many as 7 million Iranians live abroad and that the sum of their direct assets or assets they manage is $2 trillion, Ghashghavi said.
The government has issued orders to simplify the bureaucracy for returning Iranians, accepting proof of nationality rather than insisting on a valid passport, Ghashghavi said.
The foreign ministry also has set up an e-mail service to allay fears of those who don't know if they will be welcomed back, he said, adding that each case is reviewed with various government agencies and a clear assessment given.
"Many think because they left at the beginning of the revolution or during the years of war they would be questioned as to why they left," he said. "It is not so; this is an illusion, an unfounded fear. Ninety-five percent of Iranians would have no problem travelling back and forth."
Iranians abroad nonetheless remain cautious about returning. Some worry that they can't count on such assurances or that competing entities inside the country, like the Revolutionary Guards, might not listen to the ministry.
Supreme Leader Agrees
The decision to attract those in the diaspora is backed by the highest authority, however. Ayatollah Ali Khamenei, the country's supreme leader, issued orders in June to lure Iranians' investments through "incentives" and create a "foundation to attract the expertise and scientific capability of the diaspora towards national growth."
Ali Zuashkiani says he is witnessing a "wave of return." He co-founded the Tehran-based International Association of Iranian Managers, a networking initiative bringing together Iranian professionals inside the country and abroad.
"Many are contacting us saying, 'We want to return, help us, connect us' and we do it," Zuashkiani said. "I'm seeing cases of packing up and returning every other month."
Sina Sohangir is an example. The 39-year-old sold his U.S. startup and left northern California a year ago. An electrical engineer with a Ph.D. from Stanford, he had worked for Netseer Inc., an online advertising analytics company, and for Twitter Inc.
Promising Market
"Iran is at a stage where it's going to take a leap, it's going to see much growth, a lot can be done and I thought it was a good time for me to return," he said. Since coming back 11 months ago, Sohangir has started AdPardaz, which employs four and advertises on mobile games and apps.
As a market, Iran seems to offer a great deal of promise. Some 55 percent of Iranians are connected to the Internet, smartphone usage has become common and about half the population is 20 to 35 years old.
Sohangir said it was relatively easy to recruit staff but also pointed to frustrations that range from heavy traffic and deadly pollution in a city of 12 million to a work culture that can lack efficiency.
"Coming from Silicon Valley, everything there is very fast-paced, but in Iran it's very slow," he said. "One of the things I had to work hard to get used to is that something you think would take two weeks can easily take two months."
Work culture and efficiency are precisely areas where the Iranian diaspora can make a difference, says Zuashkiani, 37, who lives in Tehran with his wife after 11 years in Canada.
Creating Opportunities
"If there were 50, 100 people like me entering at the same time in one sector we can bring dynamism and change the business atmosphere of the country, modernize the regulations, make reforms," he said, adding that when multinationals return, that also will create opportunities.
The challenge is enormous. Iran has had one of the highest rates of brain drain in the world: Some 5,600 go annually to the U.S. for studies, according to a 2011 report by the Institute for International Education. A 2012 survey by the Washington D.C.-based National Science Foundation said 89 percent of Iranian doctoral students remain in the U.S. after graduation.
But that may change as more pathways open for Iranians to reconnect with their country.
Rouzbeh Pirouz, executive chairman of Turquoise Partners, the leading Iranian asset-management firm, said about a fifth of those contacting him about investing in the country are Iranians. And that makes him optimistic.
"The Iranian diaspora is a greater resource for the country even than oil," he said, adding that Iranians seem more willing to put aside their differences. "We had a generational change, both inside and outside. The younger ones don't even remember the revolution, and the older ones realize that it's time to move on."

---– Xanyar Kamangar feared he was out of luck. Due to fly from London to Tehran last month to host foreign investors, he had lost his Iranian passport. A new one would take seven weeks.---
...

Related articles based on keyword density
GLOBAL TOP 1000 WEBSITES 2016 – Ratak IT...
ratak.ir 16/03/2017 News
Ratak introduces global Top Websites of 2016 Data for table Top201702 1 1host2u.ir 1host2u.ir,Abarkooh,Armenia,Bahram 2,Bahram 3,Britain,Caesar,Carus,...View Details»

IRAN NUCLEAR TALKS STUMBLE, EXTENDED UNTIL JULY ...
hosted.ap.org 24/11/2014 News
BY MATTHEW LEE AND GEORGE JAHN ASSOCIATED PRESS VIENNA (AP) -- Still facing significant differences between the U.S. and Iran, negotiators gave up on...View Details»

Post-sanctions Iran must focus on building a knowledge economy - Quart...
qz.com 22/08/2015 Economy
Written by Kayvan Vakili Outreach Coordinator, American Iranian Council INNOVATION IN THE ISLAMIC REPUBLIC Post-sanctions Iran must focus on building...View Details»

Iran's Man in New York Is Hunting for Billions of Dollars - Bloomberg ...
bloomberg.com 27/10/2015 Economy
By Kambiz Foroohar October 27, 2015 — 12:30 AM IRST Share on FacebookShare on Twitter Hamid Biglari, ex-Citigroup banker, is advising Iran's leade...View Details»

Rouhani Struggles to Lift Iranians' Prosperity at His Own Risk - Bloom...
bloomberg.com 11/08/2016 Politics
Unease is growing that an end to sanctions has yet to lift living standards broadly and improve the economy Ladane Nasseri August 10, 2016 — 1:31 AM ...View Details»

---
EOF