An Iranian Soccer Star Takes on the State
An Iranian Soccer Star Takes on the State ...
bloomberg.com
16/02/2018 Sports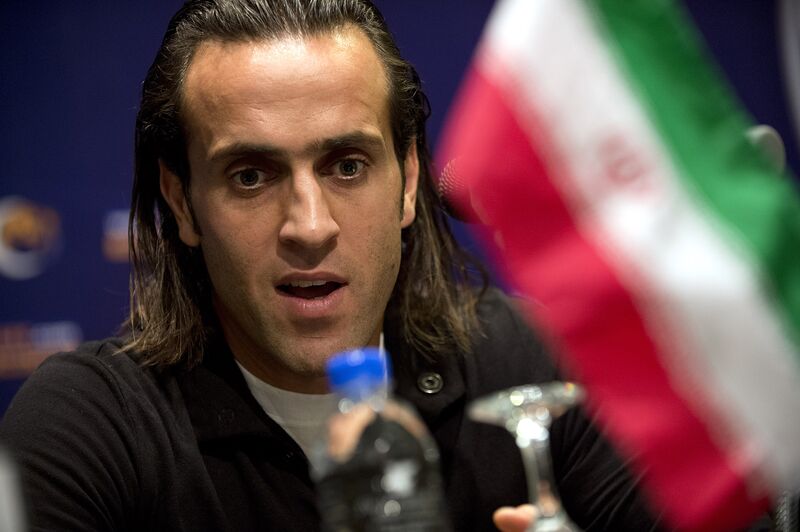 Keywords:#AFP, #Ali_Karimi, #Bayern_Munich, #Bloomberg, #Bloomberg.com, #Carlos_Queiroz, #FIFA, #GMT, #Getty, #Getty_Images, #Golnar, #Golnar_Motevalli, #Iran, #Iranian, #Islamic, #Khan, #Madrid, #Manchester, #Manchester_United, #Munich, #Persian, #Portuguese, #Queiroz, #Real_Madrid, #Russia, #Twitter, #World_Cup
By Golnar Motevalli
February 16, 2018, 2:59 PM GMT+3:30
Ali Karimi Photographer: Saeed Khan/AFP via Getty Images

* * * It's almost impossible for anyone who isn't part of Iran's conservative establishment to freely criticize the government or other national institutions using the country's tightly-controlled state broadcaster. Soccer stars are among the few exceptions -- as one proved this week.
Each Monday evening, a hugely popular show called "Navad," or "90," covers topical issues in the sport, ranging from the performance of the Iranian team to accusations of corruption within its governing, state-funded authority. Presenters clash with officials, striking a chord with Iranians with few outlets for their frustrations, which recently have sparked protests over the economy, the Islamic dress code for women and the behavior of an often distant governing elite.
Former Bayern Munich midfielder Ali Karimi topped the list of trending Persian-language hashtags on Twitter on Tuesday after appearing on the show. In a live debate with the general secretary of Iran's soccer federation, Mohammad Reza Saket, he accused the body of a lack of financial accountability, including over the sale of broadcasting rights. Iran's top players were forced to train and play international matches using just a single set of kit, Karimi alleged. Saket appeared to confirm that claim.
"While you remain in the game, there will be no happiness in football," Karimi told Saket during the show.
Karimi then lashed out at national manager Carlos Queiroz, the Portuguese coach who has worked at world-famous clubs including Manchester United and Real Madrid, and led Iran to qualification for two consecutive FIFA World Cup tournaments, including this year's event in Russia.
The social media storm started soon after. One Twitter user, Emad Emadi, said the overwhelming support for Karimi "showed that people are eager to see that the government can be criticized."
--- ---
...

Related articles based on keyword density
Iran Plans Higher Fees for Riskier Oil Fields in New Accords Iran Plan...
bloomberg.com 25/02/2014 Economy
By Golnar Motevalli and Anthony DiPaola Feb 24, 2014 Iran will offer foreign partners incentives to find and pump more crude and natural gas and will...View Details»

Carlos Queiroz: The Adopted Son of Iran...
persianfootball.com 25/06/2017 Sports
The Sportsman – TEHRAN, Carlos Queiroz has become a treasure in Iran, and after making history with the international team he wants a reoccurrence nex...View Details»

Iran's World Cup Obstacles: Spain, Portugal, and the White House ...
wsj.com 19/06/2018 Sports
Under a Portuguese manager, the reclusive nation is improbably on the brink of the round of 16 *** Iran's players throw manager Carlos Queiroz in the...View Details»

U-turn as Carlos Queiroz stays as Iran coach ...
au.news.yahoo.com 26/04/2015 Sports
AFP April 26, 2015 *** U-turn in Queiroz drama, stays as Iran coach Tehran (AFP) - The saga of Carlos Queiroz's time in charge of the Iranian ...View Details»

Teymourian Helping Iran Break New Boundaries...
persianfootball.com 06/10/2013 News
by Martin Reza Babry on October - 6 - 2013 ESPN – TEHRAN, There was the ball bouncing in the penalty area, there was a blur streaking past surprised ...View Details»

---
EOF