Five reportedly killed at Iran Protests over soaring food prices
Five reportedly killed at Iran Protests over soaring food prices ...
rt.com
16/05/2022 News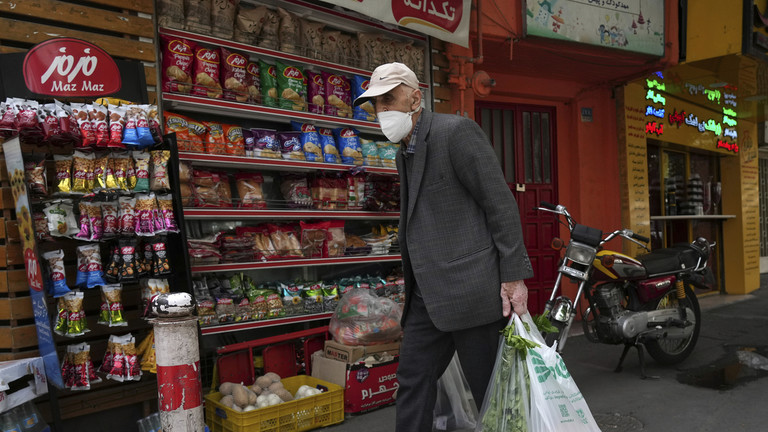 Keywords:#Ardebil, #Borujerd, #Cholicheh, #Ebrahim_Raisi, #Farsan, #IRNA, #Iran, #Iran_International, #Iranian, #Nations, #President, #Protests, #Rt.com, #Russia, #Russian, #Saudi, #Tehran, #Twitter, #Ukraine, #United_Nations
Unrest sweeps Iran over the government's decision to slash food subsidies, causing a spike in costs
Protests sweeping Iran over surging food prices have left five people dead, according to media reports. Officials in Tehran have provided no confirmation of potential casualties.
The unrest follows the government's decision to cut food import subsidies, as part of an austerity package unveiled by President Ebrahim Raisi earlier this week. The measures are aimed at rescuing an economy battered by sanctions, and also soaring inflation, which has been aggravated by the Ukraine conflict.
The scrapping of subsidies has resulted in dramatic – up to 300% – increases in prices of everyday goods, such as cooking oil, chicken, eggs and milk.
Iran's government has pledged to protect low-income citizens from the inflationary shock with monthly cash hand-outs, but the situation has left consumers struggling to buy basic items, with long lines appearing in front of food stores across the country.
Anti-government rallies have swept through Iranian cities including Dorud, Farsan, Jooneghan, Borujerd, Cholicheh, Dehdasht and Ardebil. Some gatherings descended into chaos, with stores set on fire.
On Sunday, the Saudi-funded Iran International TV station, citing unconfirmed social media posts, said that since Friday five people have been killed during the protests, with an unverified video on Twitter apparently showing the moment one of them was shot.
The first fatality was reported on Friday. Omid Soltan, 21, was reportedly shot dead by security forces in the western city of Andimeshk.
Dozens of people have been arrested, according to the official IRNA news agency, which provided no information on casualties.
Iran's official inflation rate stands at around 40% with almost half the country's 82 million-strong population now living below the poverty line.
Since the launch of the Russian military attack on Ukraine in the end of February, food prices have skyrocketed around the world, prompting fears of a global food crisis.
Russia and Ukraine are two of the world's largest agricultural exporters. According to the United Nations Conference on Trade and Development (UNCTAD), the two countries represented 53% of worldwide trade in sunflower oil and seeds and 27% of global wheat before the conflict started.
UNCTAD earlier warned that all countries would be impacted by the crisis. Increases in food and fuel prices "will affect the most vulnerable in developing countries, putting pressure on the poorest households which spend the highest share of their income on food, resulting in hardship and hunger," the organization said.
--- ---
...

Related articles based on keyword density
Global "Elders" urge Iran to build on nuclear deal - The Washington Po...
washingtonpost.com 28/01/2014 Politics
TEHRAN, Iran — The former head of the United Nations urged Iran Monday to build on a historic deal reached with world powers in November and work towa...View Details»

Middle East - Security Council debates ending UN sanctions on Iran ...
france24.com 13/03/2015 News
Major world powers have begun talks about a UN Security Council resolution to lift UN sanctions on Iran if a nuclear agreement is struck with Tehran, ...View Details»

IRAN NUCLEAR TALKS STUMBLE, EXTENDED UNTIL JULY ...
hosted.ap.org 24/11/2014 News
BY MATTHEW LEE AND GEORGE JAHN ASSOCIATED PRESS VIENNA (AP) -- Still facing significant differences between the U.S. and Iran, negotiators gave up on...View Details»

Facebook and Twitter dismantle disinformation campaigns tied to Iran a...
cnbc.com 22/08/2018 Internet-IT
Facebook, Twitter, and Alphabet collectively removed hundreds of accounts tied to an alleged Iranian propaganda operation on Tuesday. Faceboo...View Details»

Media Scam? Iran and America Join Hands in Waging "The Global War on T...
globalresearch.ca 01/07/2014 Politics
By Prof Michel Chossudovsky Global Research, June 21, 2014 Following the incursion of jihadist rebels of the Islamic State of Iraq and the Levant (IS...View Details»

---
EOF