Egypt's coup does not bode well for Palestinians | Rana Baker | Comment is free | guardian.co.uk
Egypt's coup does not bode well for Palestinians | Rana Baker | Comment is free | guardian.co.uk...
guardian.co.uk
11/07/2013 News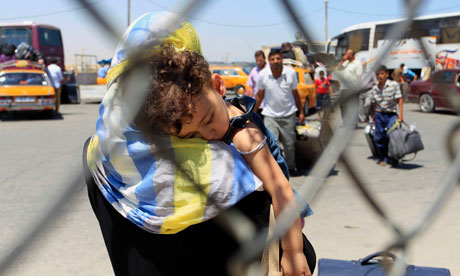 Keywords:#Cairo, #Egypt, #Egyptian, #Gaza, #Gaza_Strip, #Guardian, #Guardian.co.uk, #Hosni_Mubarak, #Israel, #Israeli, #Mohamed_Morsi, #Morsi, #Palestinian
When Hosni Mubarak was ousted in February 2011, Palestinians in the besieged Gaza Strip joined the celebrations of millions of Egyptians. Mubarak, after all, was the enforcer of Israel's siege on Gaza and allowed Tzipi Livni, then Israeli foreign minister, to initiate "Operation Cast Lead" from the heart of Cairo.

Under the now-deposed president Mohamed Morsi, conditions in Gaza got slightly better: travel through the Rafah crossing became easier and less humiliating than under Mubarak, activists who had long been denied entry to the coastal enclave by Egyptian security forces were finally able to cross, and high-profile visits also became possible. These changes, however, were relative: Palestinians in Gaza still waited, without reason, for hours in order to be let into Egypt, and Mubarak's policies of destroying tunnels and restricting travel for men under 40 continued. These factors, in addition to the Palestinians' spontaneous allegiance with the Egyptian people's demands, explain why many Palestinians criticised Morsi and supported his ousting.

What no one considered were the implications of a military coup. This time the change does not seem to bode well for the Palestinians. The border with Egypt has already been closed by the armed forces, Palestinians landing in Cairo airport are being deported back to the countries they flew in from, tunnels have been demolished, and army-instigated anti-Palestinian propaganda is rampant across Cairo. The situation in Egypt has become an obsession and wherever one goes in the Strip, grim predictions are made about a return to a Mubarak-era blockade. Rana Baker: The liberals standing by the army's side to oust Morsi should think of those in Gaza about to live again under the blockade...

Related articles based on keyword density
Alray - Israel behind Morsi's ouster, Erdogan says - Media Agency...
alray.ps 27/08/2013 News
Gaza, Alray - Turkish Prime Minister Recep Tayyip Erdogan says Israel is behind the overthrow of Egyptian President Mohamed Morsi, whose administratio...View Details»

GLOBAL TOP 1000 WEBSITES 2016 – Ratak IT...
ratak.ir 16/03/2017 News
Ratak introduces global Top Websites of 2016 Data for table Top201702 1 1host2u.ir 1host2u.ir,Abarkooh,Armenia,Bahram 2,Bahram 3,Britain,Caesar,Carus,...View Details»

2018: Top 100 Websites – Ratak IT...
ratak.ir 16/05/2019 Internet-IT
Rank Url Points Tags 1 1host2u.ir 1host2u.ir,Abarkooh,Armenia, Bahram 2,Bahram 3,Britain,Caesar,Carus,Churchill,Google,History of Iran,Hormazd,Iran,...View Details»

The Ron Paul Institute for Peace and Prosperity : Egypt\'s Junta Has N...
ronpaulinstitute.org 17/08/2013 News
The appointment of Robert Ford as the new American ambassador to Egypt was indeed an ominous sign that the Obama administration expected civil war con...View Details»

Egypt Sets Conditions for Delivery of Iran's Aid to Gaza ...
english.farsnews.com 05/08/2014 Military
TEHRAN (FNA)- The Egyptian government has set some conditions for delivering Iran's humanitarian aid and medicine to the oppressed Palestinians who ar...View Details»

---
EOF