US court convicts Turkish banker in Iran sanctions-busting trial ...
euronews.com
04/01/2018 News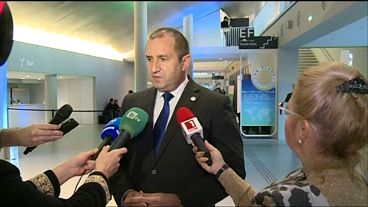 Keywords:#Euronews, #Euronews.com, #Halkbank, #Iran, #Iranian, #Manhattan, #Mehmet_Hakan_Atilla, #President, #Recep_Tayyip_Erdogan, #Reza_Zarrab, #Turkey, #Turkish, #US
A Manhattan court has found a Turkish banker guilty of helping Iran evade US sanctions. Mehmet Hakan Atilla was convicted on five of six counts on the testimony of a gold trader who pleaded guilty in return for a lighter sentence.
Prosecuters accused Atilla who was an executive at Turkey's majority state-owned Halkbank of being part of a sprawling sanctions-busting deal which included bribes to Turkish government officials.
With the knowledge of several banking officials the deal allowed Iranian money to be moved away from buying food and medicines for domestic consumption and instead to be used to pay off international debts through illegal proceeds from oil sales.
At the heart of the case was Turkish gold trader Reza Zarrab who painted a picture of a culture of bribery and corruption in Turkey, even suggesting the sanctions-dodging scheme was known to President Recep Tayyip Erdogan.
Turkey has rejected the court's findings.
--- ---
...

Related articles based on keyword density
Media Scam? Iran and America Join Hands in Waging "The Global War on T...
globalresearch.ca 01/07/2014 Politics
By Prof Michel Chossudovsky Global Research, June 21, 2014 Following the incursion of jihadist rebels of the Islamic State of Iraq and the Levant (IS...View Details»

ISIS: The Spoils of the "Great Loot" in the Middle East - FPIF...
fpif.org 02/07/2014 Politics
Adding yet more warfare to the current crisis in the Middle East will perpetuate exactly what the imperial powers set out to do: tear an entire region...View Details»

Travel: Lose yourself ... and become a fan of Iran - Independent.ie...
independent.ie 27/01/2014 Fun
Shane Fitzsimons – 26 January 2014 NOT that long ago, the idea of a holiday in Iran may have seemed a little like stepping off the map into the unkno...View Details»

Iran, Turkey and Russia meet for Syria summit ...
euronews.com 04/04/2018 News
By Kristina Harazim last updated: 04/04/2018 Iran, Turkey and Russia have agreed to work together to accelerate efforts to stabilise war-torn Syria. ...View Details»

Feds Arrest Turkish Banker For Conspiring With Trader Reza Zarrab To V...
forbes.com 29/03/2017 Economy
By Nathan Vardi , Forbes Staff A high-level Turkish banker has been arrested in New York for conspiring with Turkish gold trader Reza Zarrab to evad...View Details»

---
EOF