Artistic bond: Indo-Iranian artistes come together to create magic ...
dnaindia.com
06/01/2017 Arts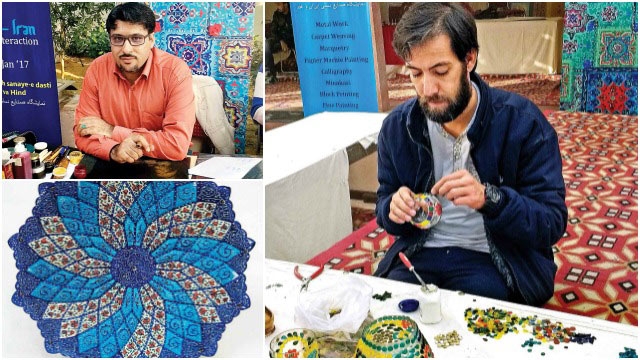 Keywords:#Culture, #Delhi, #Dnaindia.com, #India, #Iran, #Iranian, #Iranian_artists, #Pakistan, #Persian, #Persian_art
By Fareeha Iftikhar | Fri, 6 Jan
It's a unique cultural exchange as Indian and Iranian artists gather together to revive age-old creative links between the two countries. And for some, on the Iranian side, it's an eye-opening experience. Iranian calligrapher Ali Kheairi, who is visiting India for the first time, is happy as he gets a chance to discuss and explore his craft with people from another country.
"It's very interesting for me to work with Indian calligraphers here and to draw the similarities and differences between our forms of calligraphy which is actually very different," Ali said.
This coming together of artists is taking place at an 11-day long exhibition-cum-workshop, at Delhi Haat. Entitled Namayeshgahsanaye-e-Dasti Iranva Hind, the exhibition, organised by the Dastkari Haat Samiti in collaboration with Iran Culture House will revitalize the art and cultural ties of both nations.
Nine artists from Iran and 200 Indian artists from India are taking part in this exhibition.
According to the organisers, the major purpose of the gathering is to introduce Indians with the Persian art forms which are also common in their country. "Art and craft forms including block painting, papier-mâché and calligraphy among others are common traditional form of arts between India and Iran and people should know the areas where we can relate with each other," says Mohammad Nekovei, supervisor of the Iranian artistes.
On the Indian side, Indian artiste Rajeev Kumar, who writes fluently in Hindi, English and Gurmukhi, believes that creative interactions of this sort will help both the nation to exchange their interests and ideas. "This is a very good opportunity for us to exchange our traditions art forms," he said. Both Rajeev and Ali have been working on a manuscript on Indo-Iran ties with the former writing in Hindi and latter in Persian at the workshop.
Apart from discussing differences, the artists have also discovered other forms of craft, common to both nations. Among them is Minakari, a form of brush painting done on metal. "Minakari is a very delicate form of art where artists paint on metals specifically copper using mineral colours and then bake the metal at very high temperature," says Gholamreza, an Iranian craftsman, who has come up with a wide range of plates, vases, tiles and clocks, which have been made and decorated with the minakari technique. He adds that the art form is widely popular for the decorative purpose in the mosques of Iran.
Expressing their delight at this collaboration, Indian artists say that more such collaborations must happen if art is to flourish. Abdul Razzaq, a block painter from Gujarat, says "This is the third time when I'm attending any such art-exchange programme, which I have really enjoyed. I look forward one day to a similar gathering like this with our neighbouring county Pakistan. I hope our governments will one day come together for an initiative like this."
--- ---
...

Related articles based on keyword density
GLOBAL TOP 1000 WEBSITES 2016 – Ratak IT...
ratak.ir 16/03/2017 News
Ratak introduces global Top Websites of 2016 Data for table Top201702 1 1host2u.ir 1host2u.ir,Abarkooh,Armenia,Bahram 2,Bahram 3,Britain,Caesar,Carus,...View Details»

Iranian artisans to script Modinama in the Capital ...
dnaindia.com 05/01/2017 Culture
Shweta Desai | Thu, 5 Jan 2017-06:40am , New Delhi , DNA In an exhibition-cum-workshop, 'Namayeshgahsanaye-E-Dasti Iranva Hind', the Dastkari Haat Sa...View Details»

The hero of 'Djinns' and and other Persian tales - Livemint...
livemint.com 08/08/2015 Arts
The Iran nuclear deal transcends its geopolitical dimensions and makes a difference to the life of a Walled City scholar *** S.M. Yunus Jaffery in hi...View Details»

Yalda Night marks 60 years of Indo-Iran cultural ties ...
business-standard.com 23/12/2016 Culture
Press Trust of India | New Delhi December 23, 2016 To commemorate 60 years of signing cultural agreements between India and Iran, a Yalda night s...View Details»

Terror threat looms over Parsi New Year, police on high alert ...
indiatoday.intoday.in 19/03/2016 Military
The government has issued an alert to the police of various cities, including Delhi, Mumbai, Bengaluru, Goa, etc. By Ankur Sharma http://media2.intoda...View Details»

---
EOF