Amano, Salehi kick off talks on technical coop.
Amano, Salehi kick off talks on technical coop....
en.mehrnews.com
18/12/2016 News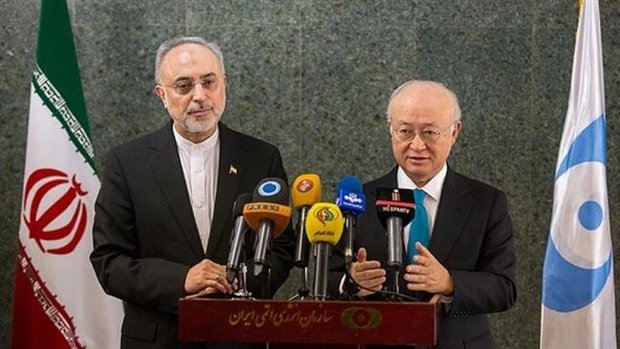 Keywords:#AEOI, #Ali_Akbar_Salehi, #Atomic_Energy_Organization, #Atomic_Energy_Organization_of_Iran, #Director_General, #En.mehrnews.com, #International_Atomic_Energy_Agency, #Iran, #Iranian, #JCPOA, #January, #Kamal_Kharrazi, #MNA, #News, #Politics, #President, #President_Rouhani, #Rouhani, #Strategic_Council_on_Foreign_Relations, #Tehran
News ID: 3852756 - Sun 18 December 2016 - 10:51
Politics
TEHRAN, Dec. 18 (MNA) – Negotiations between Yukia Amano and Ali Akbar Salehi began Sunday morning at the site of Atomic Energy Organization of Iran.
Heading a delegation, Director General of International Atomic Energy Agency Amano arrived in Tehran on Sunday morning, upon an official invitation of Salehi, Head of AEOI.
The visit is part of regular high-level contacts between the agency and Iran.
During Amano's meetings with Iranian officials, including President Rouhani and Head of Iran's Strategic Council on Foreign Relations Kamal Kharrazi, the two sides will discuss cooperation in various technical and safeguard fields as well as issues related to JCPOA.
Amano's last visit to Tehran was on January 16, one day after JCPOA took effect.
--- ---...

Related articles based on keyword density
Iranian Nuclear Energy Program History - Iranian Nuclear Energy Progra...
nuclearenergy.ir 19/11/2013 History
Iran's nuclear energy program was launched back in the 1950s, when Shah Mohammad Reza Pahlavi – an ally of the West - was in power. Western states jum...View Details»

Iran's volleyball snares historic Olympic berth after 52 years ...
en.mehrnews.com 05/06/2016 Sports
News ID: 3676230 - Sat 4 June 2016 - 16:02 Sports TEHRAN, Jun. 04 (MNA) – Iran national volleyball team beat Poland at the 2016 Olympic men's volleyb...View Details»

IAEA's Amano arrives in Tehran ...
en.mehrnews.com 17/08/2014 News
TEHRAN, Aug. 17 (MNA) – International Atomic Energy Agency Director General Yukiya Amano arrives in Tehran late on Saturday. IAEA director general is ...View Details»

Second post-JCPOA Airbus lands in Mehrabad ...
en.mehrnews.com 11/03/2017 Auto
News ID: 3928990 - Sat 11 March 2017 - 11:03 Economy TEHRAN, Mar. 11 (MNA) – An Airbus A330-200 left Toulouse–Blagnac Airport at 3:00 a.m. local time...View Details»

Tehran, Bangkok welcome stronger ties...
en.mehrnews.com 09/10/2016 News
News ID: 3791374 - Sun 9 October 2016 - 14:24 Politics TEHRAN, Oct. 09 (MNA) – Iran's Hassan Rouhani is visiting Southeast Asian countries and has m...View Details»

---
EOF