Death of Freddie Gray Under US Police Custody ...
en.wikipedia.org
12/04/2015 Military
Keywords:#2015, #African, #American, #Attorney_General, #Baltimore, #Barack_Obama, #Black_Lives_Matter, #CNN, #Caesar, #Carolina, #Charleston, #Chicago, #Cleveland, #Death_of_Jeremy_McDole, #Death_of_Sandra_Bland, #En.wikipedia.org, #FBI, #Florida, #Freddie_Gray, #Governor, #Guardian, #Jeremy_McDole, #Jesus, #List_of_killings_by_law_enforcement_officers_in_the_United_States, #Lt, #Maryland, #Miami, #Michael_Brown, #Nero, #New_York, #New_York_City, #New_York_Times, #News, #North_Carolina, #Obama, #Philadelphia, #Police_brutality_in_the_United_States, #Portland, #President, #Prosecutor, #Protests, #Reuters, #Sandra_Bland, #Seattle, #September, #Task_Force, #The_Guardian, #Times, #US, #United_States, #University, #Washington, #White_House
On April 12, 2015, Freddie Carlos Gray, Jr., a 25-year-old African-American man, was arrested by the Baltimore Police Department for possessing what the police alleged was an illegal switchblade. While being transported in a police van, Gray fell into a coma and was taken to a trauma center. Gray died on April 19, 2015; his death was ascribed to injuries to his spinal cord. On April 21, 2015, pending an investigation of the incident, six Baltimore police officers were temporarily suspended with pay.
The circumstances of the injuries were initially unclear; eyewitness accounts suggested that the officers involved used unnecessary force against Gray during the arrest—a claim denied by at least one officer involved. Commissioner Anthony W. Batts reported that, contrary to department policy, the officers did not secure him inside the van while driving to the police station; this policy had been put into effect six days prior to Gray's arrest, following review of other transport-related injuries sustained during police custody in the city, and elsewhere in the country during the preceding years. The medical investigation found that Gray had sustained the injuries while in transport. On May 1, 2015, the Baltimore City State's Attorney, Marilyn Mosby, announced her office had filed charges against six police officers after the medical examiner's report ruled Gray's death a homicide, on the grounds that Gray had died as a result of a 'rough ride' - a form of police brutality in which a victim is helplessly thrown around by deliberately abrupt driving while unable to keep themselves safe due to use of restraints. (Rough rides were already implicated in deaths, paralysis, and severe spinal injuries in several other cases.)
The prosecutors stated that they had probable cause to file criminal charges against the six police officers who were believed to be involved in his death. The officer driving the van was charged with second-degree depraved-heart murder, and others were charged with crimes ranging from manslaughter to illegal arrest. In a later rebuttal to allegations that the knife was illegal, prosecutors argued that Gray was illegally arrested well before the officers knew that he possessed a knife, and without probable cause. On May 21, a grand jury indicted the officers on most of the original charges filed by Mosby with the exception of the charges of illegal imprisonment and false arrest, and added charges of reckless endangerment to all the officers involved.
Gray's hospitalization and subsequent death resulted in an ongoing series of protests. On April 25, 2015, a major protest in downtown Baltimore turned violent, resulting in 34 arrests and injuries to 15 police officers. After Gray's funeral on April 27, civil disorder intensified with looting and burning of local businesses and a CVS drug store, culminating with a state of emergency declaration by Governor Larry Hogan, Maryland National Guard deployment to Baltimore, and the establishment of a curfew. On May 3, the National Guard started withdrawing from Baltimore, and the night curfew on the city was lifted.
Freddie Gray
Freddie Carlos Gray, Jr. (August 16, 1989 – April 19, 2015) was the 25-year-old son of Gloria Darden. He had a twin sister, Fredericka Gray, as well as another sister, Carolina. At the time of his death, Gray lived in the home owned by his sisters in the Gilmor Homes neighborhood. He stood 5 feet 8 inches (1.73 m) and weighed 145 pounds (66 kg).
Gray had a criminal record, on drug charges and minor crimes. Gray had been involved in 20 criminal court cases, five of which were still active at the time of his death, and was due in court on a possession charge on April 24. In February 2009, he was sentenced to four years in prison for two counts of drug possession with intent to deliver and was paroled in 2011. In 2012, he was arrested for violating parole but was not sent back to prison. In 2013, he returned to jail for a month before being released again.
Police officers
Caesar Goodson - Officer Caesar R. Goodson Jr., age 45, black, is a 16-year veteran of the police force.
Garret Miller - Officer Garrett E. Miller, age 26, white, joined the Baltimore Police Department in 2012.
Edward Nero - Officer Edward M. Nero, age 29, white, joined the Baltimore Police Department in 2012.
William Porter - Officer William G. Porter, age 25, black, joined the police force in 2012.
Brian Rice - Lieutenant Brian W. Rice, age 41, white, is a 17-year-veteran of the force. Rice, who was promoted to lieutenant in 2011, is the highest-ranking officer charged in relation to Gray's death. The Guardian reported that, in 2012, Rice had allegedly threatened to kill himself and the husband of his former partner. He had been hospitalized, reportedly, for a mental health evaluation and given an administrative suspension. The consequences of this threat included twice having his guns confiscated, and a restraining order on behalf of the husband of his former partner. According to a police report obtained by The Guardian, Rice had also misused his position to order the arrest of his ex-girlfriend's husband as part of a personal dispute that took place two weeks before the incident.
Alicia White - Sergeant Alicia D. White, age 30, black, joined the force in 2010 and was promoted to sergeant three months prior to Gray's death. She grew up in Baltimore.
Arrest and death
Police encountered Freddie Gray on the morning of April 12, 2015, in the street near Baltimore's Gilmor Homes housing project, an area known to have high levels of home foreclosures, poverty, drug deals and violent crimes. According to the charging documents submitted by the Baltimore police, at 8:39 a.m Lieutenant Brian W. Rice, Officer Edward Nero, and Officer Garrett E. Miller were patrolling on bicycles and "made eye contact" with Gray, who proceeded to flee on foot "unprovoked upon noticing police presence". Gray was apprehended after a brief foot chase, and was taken into custody "without the use of force or incident," according to Officer Garret Miller, who wrote he "noticed a knife clipped to the inside of his front right pocket." In the formal statement of charges, Officer Miller alleged Gray "did unlawfully carry, possess, and sell a knife commonly known as a switch blade knife, with an automatic spring or other device for opening and/or closing the blade within the limits of Baltimore City. The knife was recovered by this officer and found to be a spring assisted one hand operated knife." The state's attorney for Baltimore City said the spring-assisted knife Gray was carrying was legal under Maryland law, while a police task force said the knife was a violation of the Baltimore code under which Gray was charged.
Two bystanders captured Gray's arrest with video recordings, showing Gray, screaming in pain, being dragged to a police van by officers, and then stepping up into the van. A bystander with connections to Gray stated that the officers were previously "folding" Gray—with one officer bending Gray's legs backwards, and another holding Gray down by pressing a knee into Gray's neck. Witnesses commented Gray "couldn't walk", "can't use his legs", and "his leg look broke and you all dragging him like that". Baltimore Police Commissioner Anthony W. Batts noted from the video that, "Gray stood on one leg and climbed into the van on his own." The Baltimore Sun reported that another witness saw Gray being beaten with police batons.
According to the police timeline, Gray was placed in a transport van within 11 minutes of his arrest, and within 30 minutes, paramedics were summoned to take Gray to a hospital. The van made four confirmed stops while Gray was detained. At 8:46 a.m., Gray was unloaded in order to be placed in leg irons because police said he was acting irate. Gray's shackling was recorded on a cellphone, which exhibited a motionless Gray surrounded by several officers as he was restrained. A later stop, recorded by a private security camera, shows the van stopped at a grocery store. At 8:59 a.m., a second prisoner was placed in the vehicle while officers checked on Gray's condition. At 9:24 a.m., the transport van arrived at its final stop, the West District police station. After paramedics treated Gray for 21 minutes, he was taken to the University of Maryland R Adams Cowley Shock Trauma Center at 9:45 a.m. in a coma.
The media has suggested the possibility of a rough ride—an unsanctioned practice where a handcuffed prisoner is placed without a seatbelt in an erratically driven vehicle—as a contributing factor in Gray's injury. The department's seatbelt policy had been revised six days prior to Gray's arrest, in an attempt to protect detained individuals from serious injuries during transport. The policy was not followed in Gray's case. According to attorney Michael Davey, who represents at least one of the officers under investigation, the new rules were criticized by some. He explained that in certain situations, like when a prisoner is combative, "It is not always possible or safe for officers to enter the rear of those transport vans that are very small, and this one was very small."
In the following week, according to the Gray family attorney, Gray suffered from total cardiopulmonary arrest at least once but was resuscitated without ever regaining consciousness. He remained in a coma, and underwent extensive surgery in an effort to save his life. According to his family, he lapsed into a coma with three fractured vertebrae, injuries to his voice box, and his spine 80% severed at his neck. Police confirmed that the spinal injury led to Gray's death. Gray died on April 19, 2015, a week after his arrest.
Approximately three weeks prior to the incident, Mosby had requested "enhanced" drug enforcement efforts at the corner of North and Mount.
Aftermath
Investigation
The Baltimore Police Department suspended six officers with pay pending an investigation of Gray's death. The six officers involved in the arrest were identified as Lieutenant Brian Rice, Sergeant Alicia White, Officer William Porter, Officer Garrett Miller, Officer Edward Nero, and Officer Caesar Goodson. On April 24, 2015, Police Commissioner Anthony Batts said, "We know our police employees failed to get him medical attention in a timely manner multiple times." Batts also acknowledged police did not follow procedure when they failed to buckle Gray in the van while he was being transported to the police station. The U.S. Department of Justice also opened an investigation into the case.
On April 30, 2015, Kevin Moore, one of the witnesses who filmed Gray's arrest, was arrested at gunpoint following what Moore described as "harassment and intimidation" by police. Moore stated he had cooperated with police, and gave over his video of Gray's arrest for investigation. He claimed, despite aiding in the investigation, his photo was made public by police for further questioning. Moore was released from custody the next day, but two other individuals who were arrested along with Moore remained in custody. The same day as Moore's arrest, medical examiners reported Gray sustained more injuries as a result of slamming into the inside of the transport van, "apparently breaking his neck; a head injury he sustained matches a bolt in the back of the van".
On May 19, 2015, prosecutors asked a judge to place a gag order on attorneys, police, and witnesses of the arrest, arguing that statements by the attorneys of some of the officers charged could prejudice the public. On June 8, 2015, it was announced that a judge had denied the state's attorney's request for a gag order on procedural grounds.
Charges and indictments
On May 1, 2015, after receiving a medical examiner's report ruling Gray's death a homicide, state prosecutors said that they had probable cause to file criminal charges against the six officers involved. Mosby said that the Baltimore police had acted illegally and that "No crime had been committed" (by Freddie Gray). Mosby said that Gray "suffered a critical neck injury as a result of being handcuffed, shackled by his feet and unrestrained inside the BPD wagon." Mosby said officers had "failed to establish probable cause for Mr. Gray's arrest, as no crime had been committed", and charged officers with false imprisonment, because Gray was carrying a pocket knife of legal size, and not the switchblade police claimed he had possessed at the time of his arrest. All six officers were taken into custody and processed at Baltimore Central Booking and Intake Center.
Three of the officers are facing manslaughter charges and one faces an additional count of second degree depraved-heart murder. The murder charge carries a possible penalty of 30 years in prison; the manslaughter and assault offenses carry a maximum penalty of 10 years in prison. All six officers were released from jail after posting bail the same day they were booked. Two officers were released on $250,000 bail and the four others' bail was $350,000.
Officer Caesar R. Goodson Jr.: The driver of the van. He was charged with second-degree depraved heart murder; involuntary manslaughter; second-degree assault; manslaughter by vehicle (gross negligence); manslaughter by vehicle (criminal negligence); and misconduct in office. He posted a US$350,000 bail. The grand jury indicted Goodson on all charges and added an indictment of reckless endangerment.
Officers Garrett E. Miller and Edward M. Nero: The officers that caught Gray after he fled, and, after apprehending him, handcuffed Gray with his arms behind his back. Miller was charged with two counts of second degree assault; two counts of misconduct in office; and false imprisonment. Nero was charged with two counts of second degree assault; misconduct in office and false imprisonment. Each posted a US$250,000 bail. The false imprisonment charges were dropped by the grand jury, but an indictment of reckless endangerment was added.
Officer William G. Porter: Met up with the van after Goodson called dispatchers to ask for an officer to come check on Gray. He was requested twice by Gray for a medic, but did not call for one. He was charged with involuntary manslaughter; second degree assault; misconduct in office. Porter posted a US$350,000 bail. The grand jury indicted Porter on all charges and added an indictment of reckless endangerment. On December 16, 2015 a mistrial was declared on all changes, after the jury was hung and could not come to a decision.
Lt. Brian W. Rice: The officer who initially made eye contact with Gray while on a bicycle patrol. He was charged with involuntary manslaughter; two counts of second degree assault; manslaughter by vehicle (gross negligence); two counts of misconduct in office; and false imprisonment. He posted a US$350,000 bail. The false imprisonment charges were dropped by the grand jury, which added an indictment of reckless endangerment.
Sgt. Alicia D. White: White is accused of not calling for medical assistance when she encountered Gray, "despite the fact she was advised that he needed a medic". She was charged with involuntary manslaughter; second degree assault; and misconduct. She posted a US$350,000 bail. The grand jury indicted White on all charges and added an indictment of reckless endangerment.
Response to charges
Mayor Stephanie Rawlings-Blake said there was no place in the Baltimore Police department for those police officers who "choose to engage in violence, brutality, racism". Gene Ryan, president of the police union chapter said that despite the tragic situation, "none of the officers involved are responsible for the death of Mr. Gray."
President Barack Obama said it was vital that the truth be found and supported protests if they were peaceful.
In a May 4, 2015, interview on Fox News, Alan Dershowitz said that he believes Mosby overcharged the officers in an attempt to satisfy protesters and prevent further disturbances. Former Baltimore Prosecutor Page Croyder penned an op-ed in The Baltimore Sun where she described Mosby's charges as reflecting "either incompetence or an unethical recklessness." Croyder opined that Mosby circumvented normal procedures "to step into the national limelight", and that she "pandered to the public," creating an expectation of a conviction.
A motion for Mosby to recuse herself from the case was filed on behalf of the charged officers, on the alleged basis of personal gain by Mosby and her husband, personal relationships with potential witnesses, and the financial interest of Gray's attorney, whom the motion claims is a close friend of Mosby. CNN's legal analyst Jeffrey Toobin pointed out that he does not see any serious conflict of interest to disqualify Mosby from the case, and that the officers may not have a case with that motion. The lawyers representing the officers filed a motion insisting that the city must pay thousands of dollars in damages for arresting and detaining them—or else they could sue Marilyn Mosby and the Mayor of Baltimore, Stephanie Rawlings-Blake. In a 11-page rebuttal, Chief Deputy State's Attorney Michael Schatzow wrote that Gray was detained "well before the arresting officers knew he possessed a knife" and that the motion was absurdly "bounc from one ridiculous allegation to another, like a pinball on a machine far past 'TILT.'" Mosby was ordered to respond to the motion filed by the defense attorneys by June 26, 2015.
On September 2, 2015, it was decided that there will be separate trials for the accused.
In December 2015, a Baltimore judge declared a mistrial after the jury was unable to reach a verdict in the trial of Officer Porter.
Federal investigations
Attorney General Loretta Lynch announced on May 8, 2015, that the Department of Justice will conduct a review of the current practices of Baltimore Police Department due to a "serious erosion of public trust", in relation to the circumstances of Gray's death. The review took effect immediately, and focused on allegations that Baltimore police officers use excessive force, including deadly force, conduct unlawful searches, seizures or arrests, and engage in discriminatory policing.
As of May 2015, Federal authorities were conducting three probes into Baltimore police, the "pattern of practice" investigation initiated by Lynch, a collaborative review which began in the fall of 2014, and a civil rights probe into the death of Gray.
Public response
Public reaction to the death has drawn parallels to the response to the 2014 shooting of Michael Brown, as part of a larger string of controversial uses of force by police officers in the United States—especially against African Americans. As of April 30, 2015, 22 demonstrations had been held nationwide in direct response to Gray's death or in solidarity with Baltimore. Additionally, the Black Lives Matter movement has protested Gray's death.
On April 18, 2015, hundreds of people participated in a protest outside the Baltimore Police Department. Three days later, on April 21, 2015, according to Reuters, "undreds of demonstrators gathered in Baltimore", protesting Gray's death. The next day, Gene Ryan, the president of the local lodge of the Fraternal Order of Police, expressed sympathy for the Gray family, but criticized the "rhetoric of protests" and suggested that "the images seen on television look and sound much like a lynch mob." William Murphy, attorney for the Gray family, demanded an "immediate apology and a retraction". Ryan defended his statement two days later, while admitting that the wording was poor. Charles M. Blow of The New York Times, reminded of a column he wrote several years ago, said that comparing protests to lynch mobs was too extreme because it inflames racial tensions by belittling the significance of the history of lynching in the United States.


Protesters at a police station near the site of Gray's arrest on April 25

* * * On April 25, 2015, protests were organized in downtown Baltimore, and the protests turned violent as protesters threw rocks and set fires. At least 34 people were arrested, and 15 officers were injured. On April 27, rioting and looting began after the funeral of Gray, with two patrol cars destroyed and 15 officers reported injured. Protesters looted and burned down a CVS Pharmacy location in downtown Baltimore. In reaction to the unrest, the Maryland State Police sent 82 troopers to protect the city. A Baltimore Orioles baseball game against the Chicago White Sox scheduled for the evening was postponed due to the unrest. The next game commenced as scheduled but, as a precautionary measure, fans were barred from attending. Maryland Governor Larry Hogan declared a state of emergency, and activated the Maryland National Guard. Hogan also activated 500 state troopers for duty in Baltimore and requested an additional 5,000 police officers from other locales.
At a press conference, Baltimore's mayor announced there would be a citywide curfew from 10:00 p.m. to 5:00 a.m. School trips were canceled until mid-May, and Baltimore's city schools were closed on April 28. In addition, both the University of Maryland campus in downtown Baltimore and the Mondawmin Mall were closed early.
Protests outside Baltimore also took place in other U.S. cities. In New York City, 143 people at Union Square were arrested on April 29, 2015 for blocking traffic and refusing to relocate. On the same day, outside the White House in Washington, D.C., nearly 500 protesters converged without an incident. In Denver, eleven people were arrested as protesters were involved in physical altercations with officers. Other protests in response to Gray's death took place in cities including Chicago, Minneapolis, Miami, Philadelphia, Portland, and Seattle.
On May 3, 2015, the National Guard began withdrawing from Baltimore, and the night curfew on the city was lifted. The demobilizing process lasted three days, during which time the state of emergency remained in effect.
Spike in Baltimore homicides
In May 2015, there were 43 homicides in Baltimore, making it the third deadliest month in 40 years behind August 1972 (45) and December 1971 (44). The number of homicides fell to 29 in June, 2015 but in July 2015, 45 murders were recorded, tying with the record in 1972. Lt. Gene Ryan, president of Baltimore Fraternal Order of Police, said this was partly due to an increase of confidence among criminals in Baltimore. Then-police commissioner, Anthony Batts blamed drugs looted from pharmacies during the riots for the spike in crime.
The 2015 homicide total as of July 31 was 189 compared to 119 by the end of July 2014. On August 3, in an attempt to solve the cases, Baltimore announced the Baltimore Federal Homicide Task Force. It is a partnership of the Baltimore police and five federal crime-fighting agencies. The agencies will each embed two agents with the Baltimore police to help investigate. On July 8, 2015, Mayor Stephanie Rawlings-Blake fired the police commissioner, Anthony Batts, saying that his response to the death of Gray had become a distraction, while the police failed to prevent the spike in homicides.
Settlement
On September 8, Mayor Stephanie Rawlings-Blake announced a $6.4 million settlement to the family of Gray, to be paid as $2.8 million in current fiscal year and $3.6 million next year beginning in July 2016. The Mayor and the other four members of the city's Board of Directors unanimously approved the deal, which covers the city, police department and the officers included in wrongful death claims brought by Gray's family.
Rawlings-Blake stressed that the settlement was in no way related to criminal proceedings involving the six police officers charged in connection with Gray's death.
"The purpose of the civil settlement is to bring an important measure of closure to the Gray family, to the community and to the city," Rawlings-Blake said after the vote. "And to avoid years and years of protracted civil litigation."
2015 Baltimore curfew
Death of Sandra Bland
Death of Jeremy McDole
List of killings by law enforcement officers in the United States, April 2015
Police brutality in the United States
2015 Baltimore protests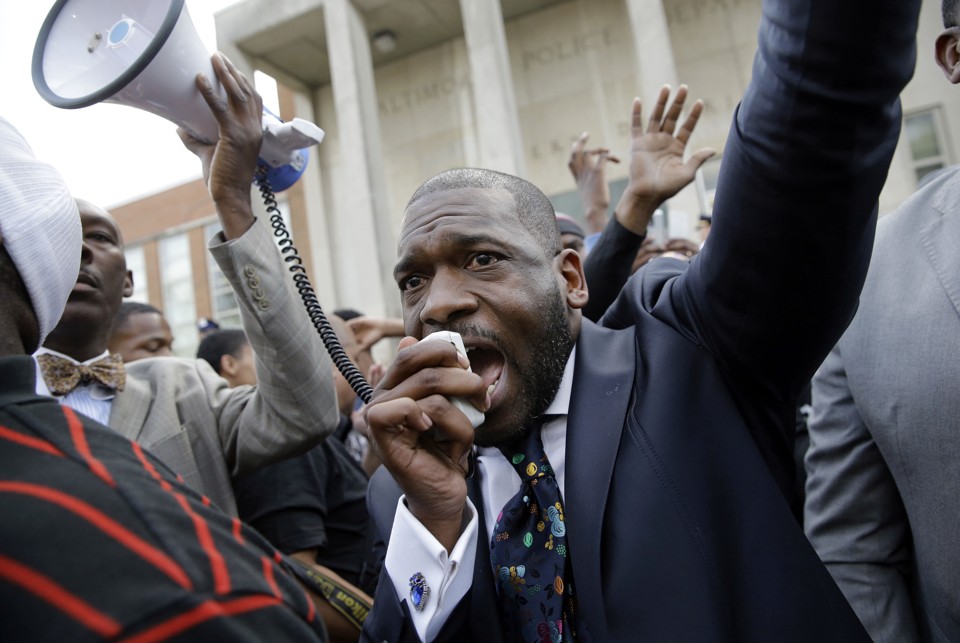 The Mysterious Death of Freddie Gray
When the Baltimore man was arrested, he was alive and well. By the time he reached a police station, he couldn't breathe or talk. What happened?
By David A. Graham Apr 22, 2015
http://www.theatlantic.com/politics/archive/2015/04/the-mysterious-death-of-freddie-gray/391119 /
Freddie Gray's death on April 19 leaves many unanswered questions. But it is clear that when Gray was arrested in West Baltimore on the morning of April 12, he was struggling to walk. By the time he arrived at the police station a half hour later, he was unable to breathe or talk, suffering from wounds that would kill him.*
Gray died Sunday from spinal injuries. Baltimore authorities say they're investigating how the 25-year-old was hurt—a somewhat perverse notion, given that it was while he was in police custody, and hidden from public view, that he apparently suffered injury. How it happened remains unknown. It's even difficult to understand why officers arrested Gray in the first place. But with protesters taking to the streets of Baltimore since Gray's death on Sunday, the incident falls into a line of highly publicized, fatal encounters between black men and the police. Meanwhile, on Tuesday, a reserve sheriff's deputy in Tulsa, Oklahoma, pleaded not guilty to a second-degree manslaughter charge in the death of a man he shot. The deputy says the shooting happened while he was trying to tase the man. Black men dying at the hands of the police is of course nothing new, but the nation is now paying attention and getting outraged.
Authorities can't say if there was a particularly good reason why police arrested Gray. According to the city, an officer made eye contact with Gray, and he took off running, so they pursued him. Though he'd had scrapes with the law before, there's no indication he was wanted at the time. And though he was found with a knife, Mayor Stephanie Rawlings-Blake said, "We know that having a knife is not necessarily a crime."
The police say Gray didn't resist arrest and that officers didn't use force, which seems to be mostly corroborated by video shot by bystanders. Gray seems to shout in pain, and his leg seems injured as officers drag him to a police van. (Someone off camera shouts, "His leg broke and y'all dragging him like that!") Gray also had asthma and requested his inhaler, but didn't get it. Yet it's not the leg or the asthma that killed him. Instead, it was a grave injury to his spinal cord. Gray's family said he was treated for three fractured vertebrae and a crushed voice box, the sorts of injuries that doctors say are usually caused by serious car accidents. The van made at least two stops before reaching the police station, but there's no footage to say what happened during the journey or at those stops.
It's a baffling conundrum. "None of the officers describe any use of force," Deputy Police Commissioner Jerry Rodriguez said. "None of the officers describe using any force against Mr. Gray." And yet somehow Gray was fatally hurt while in police custody.
The lack of clear evidence in Baltimore is a reminder of just how unusual the case of Walter Scott was. The North Charleston, South Carolina, man was shot in the back by a police officer while running away, but a bystander caught the incident on video—debunking the official account in a police report. Officer Michael Slager has now been charged with murder. As my colleague Robinson Meyer wrote, society owes much to the brave bystanders who tape encounters like this, and their footage has gone a long way to helping achieve justice and to awakening the public to police brutality.
The obvious tie between the Gray and Scott cases, though, is that in both incidents police apprehended black men under questionable circumstances—Scott for a busted tail light, Gray for, well, it's unclear. In both cases, the black community feels its members were unfairly targeted by the local police
"I'm not saying Fred was an angel; whatever he did is now in the past. But the police already have made up their minds about who we are," Rudolph Jackson told The Baltimore Sun. "They figure every black person with their pants hanging down is a suspect, and they stop them without probable cause." That echoes complaints of African Americans around the nation, from Ferguson to Staten Island to Cleveland, about how they experience the police not as benevolent defenders of the peace but as an arbitrary menace, more likely to violate a citizen's rights than preserve them.
Six officers have been suspended with pay and placed on desk duty in the Gray case, and while the Baltimore Police Department didn't specify their races, the three officers in the clip arresting Gray all appear to be white. One thing that separates this case from, say, Ferguson or North Charleston is the demographics of those in power. It's true that whites are overrepresented in the Baltimore Police Department compared to the city's overall population, but black and white officers make up roughly equal proportions of the force. In addition, both Mayor Stephanie Rawlings-Blake and Police Commissioner Anthony Batts are African Americans.
"They figure every black person with their pants hanging down is a suspect, and they stop them without probable cause."
Conflicts between the police and black citizens are often discussed as though the question is whether officers profess personal racism—a trap that even FBI Director James Comey, in an otherwise sympathetic and thoughtful speech on race and law enforcement, fell into. Troubled relationships like the one between Baltimore's black community and its police force, despite the presence of elected and appointed black leaders, show how racism is a systemic problem. It is the way people behave, rather than whether they manifest any personal animus. The issue is how the justice system as a whole treats black men.
The other obvious problem here is what happens when the police not only aren't being filmed but aren't even being watched. Despite movement to provide police with body cameras, many still don't wear them. There is much that's still unknown about Gray's fatal injuries, but it's hard to avoid the conclusion—based purely on what the mayor and others have said—that his injuries came at the hands of police officers in the van. "He did suffer a very tragic injury to his spinal cord, which resulted in his death," Rodriguez said at a news conference. "What we don't know, and what we need to get to, is how that injury occurred."
A common estimate is that 400 people die every year while being arrested—a number that CityLab's Richard Florida notes is probably an undercount—and six in 10 of those deaths are homicides, according to the Bureau of Justice Statistics. There are plenty of baffling cases that aren't ruled homicides, too. For example, in 2013, Jesus Huerta, a teenaged resident of Durham, North Carolina, died of a gunshot wound to the head while handcuffed in the back of a police cruiser. While that case elicited outrage, the district attorney said there wasn't evidence to disprove the police contention that Huerta shot himself with a gun an officer missed during a frisk.
Calming frayed nerves and ensuring justice in Gray's death will require figuring out what happened in that van. Rawlings-Blake has promised to do so, and the U.S. Department of Justice says it will also investigate whether officers violated Gray's civil rights. But if the police can't be trusted to get a man to jail without grave injury, can they be trusted to investigate this death effectively? And if they can't, who will?

--- ---
...

Related articles based on keyword density
GLOBAL TOP 1000 WEBSITES 2016 – Ratak IT...
ratak.ir 16/03/2017 News
Ratak introduces global Top Websites of 2016 Data for table Top201702 1 1host2u.ir 1host2u.ir,Abarkooh,Armenia,Bahram 2,Bahram 3,Britain,Caesar,Carus,...View Details»

Take Action: Protests around the World Respond to Assault on Palestine...
globalresearch.ca 18/07/2014 News
Protests are being organized in cities around the world to respond to the ongoing assault on Palestine and the Palestinian people, including the murde...View Details»

Pan Am Flight 103 explodes over Scotland, Dec. 21, 1988 - POLITICO...
politico.com 21/12/1988 History
By Andrew Glass 12/21/15 12:01 AM EST On this day in 1988, Pan Am Flight 103, a Boeing 747 en route to New York from London, exploded over Lockerbie,...View Details»

FBI BLAMES NORTH KOREA FOR Sony Pictures Entertainment hack ...
en.wikipedia.org 19/12/2014 Fun
FBI blames North Korea for Sony hack On November 24, 2014, emails between employees of Sony Pictures Entertainment, information about executive salari...View Details»

The Tamir Rice decision shows that in America, black people are just a...
independent.co.uk 29/12/2015 Military
Under America's white supremacist law enforcement system, #WhiteLivesMatter; Black lives do not. The case of this 12-year-old boy proves that Ter...View Details»

---
EOF