Iran's final death toll in Mina tragedy hits 464
Iran's final death toll in Mina tragedy hits 464 ...
en.mehrnews.com
02/10/2015 News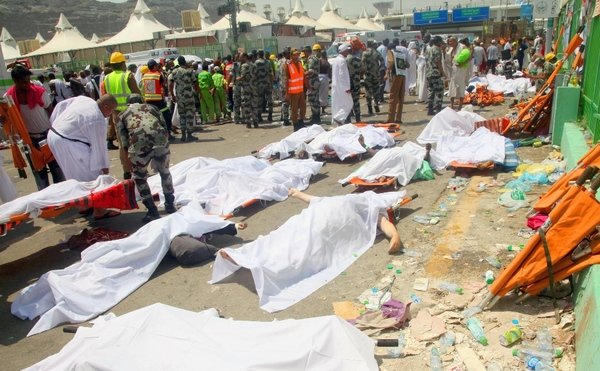 Keywords:#2015, #Algeria, #Arabia, #Benin, #Burkina, #Burkina_Faso, #Egypt, #En.mehrnews.com, #Hajj, #Hajj_and_Pilgrimage_Organization, #India, #Indonesia, #Iran, #Iranian, #Kenya, #MNA, #Mecca, #Morocco, #Nigeria, #Pakistan, #Politics, #Red_Crescent, #Saudi, #Saudi_Arabia, #Senegal, #Somalia, #Tanzania

News ID: 2929208 - Thu 1 October 2015 - 11:30
Politics
MECCA, Oct. 01 (MNA) – Announcing the total number of Iranian victims in Mina incident as 464, officials condemned the Saudis uncooperative and obstructive manner regarding the case.
Iranian Hajj and Pilgrimage Organization issued a statement accounting the total number of Iranian pilgrims killed and injured in the tragic incident of Mina.
In the statement, Hajj and Pilgrimage Organization offers condolences to all Iranians for the loss of 464 pilgrims, while 20 are still hospitalized.
According to Iranian officials all Saudi hospitals have been looked up for any Iranian injured but after 7 days they have quit searching for the missed pilgrims.
Seyed Ali Mar'ashi, the head of Medical Center of Iran's Red Crescent in Mecca told the reporters that Saudis have banned Iranian identifying teams to enter Moaysem Mortuary in Mecca since Tuesday.
Mar'ashi added that currently 14 Iranian pilgrims are hospitalized in Saudi Arabia and 6 other bed-bound pilgrims were transferred to Iran on Wednesday.
Other victims of the incident are from Nigeria, Egypt, Pakistan, India, the Ivory Coast, Tanzania, Burkina Faso, Somalia, Indonesia, Senegal, Kenya, Burundi, Cameroon, Morocco, Algeria, Chad, Niger, and Benin.
------
...

Related articles based on keyword density
Iran Hosts 16th NAM Summit...
1host2u.ir 26/08/2012 History
(Wikipedia) - The 16th Summit of the Non-Aligned Movement was held from 26 to 31 August 2012 in Tehran, Iran. The summit was attended by leaders of 12...View Details»

Iran's Zarif signs Paris Agreement on climate change ...
presstv.ir 23/04/2016 Nature
*** Iranian Foreign Minister Mohammad Javad Zarif signs the Paris Agreement on climate change during a ceremony at the United Nations headquarters in ...View Details»

ISIS: The Spoils of the "Great Loot" in the Middle East - FPIF...
fpif.org 02/07/2014 Politics
Adding yet more warfare to the current crisis in the Middle East will perpetuate exactly what the imperial powers set out to do: tear an entire region...View Details»

What do Russia and Iran think about Saudi Arabia's coalition initiativ...
euronews.com 16/12/2015 Politics
Saudi Arabia has announced the formation of a military alliance of Muslim countries to fight international terrorism. More than 30 Muslim states wil...View Details»

Media Scam? Iran and America Join Hands in Waging "The Global War on T...
globalresearch.ca 01/07/2014 Politics
By Prof Michel Chossudovsky Global Research, June 21, 2014 Following the incursion of jihadist rebels of the Islamic State of Iraq and the Levant (IS...View Details»

---
EOF