Rouhani enforces Nuclear Achievements Act
Rouhani enforces Nuclear Achievements Act ...
en.mehrnews.com
12/07/2015 News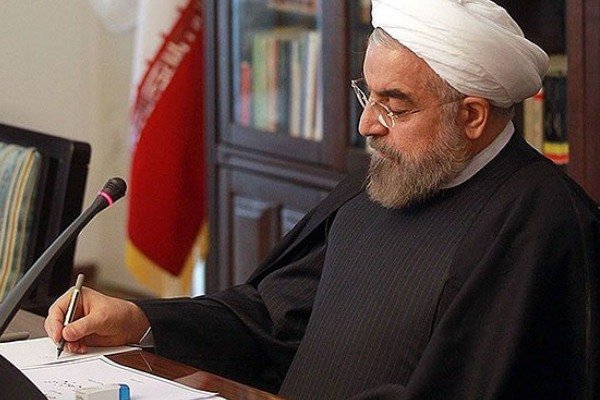 Keywords:#2015, #Atomic_Energy_Organization, #Constitution, #En.mehrnews.com, #Guardian, #Guardian_Council, #Hassan_Rouhani, #Iran, #Islamic, #Islamic_Republic, #Islamic_Republic_of_Iran, #Judiciary, #MNA, #Majlis, #Ministry_of_Foreign_Affairs, #Parliament, #Politics, #President, #Rouhani, #Sun, #Switzerland

News ID: 2857418 - Sun 12 July 2015 - 21:29
Politics
TEHRAN, Jul. 12 (MNA) – In an official decree, Iran's President Rouhani signed into law act to safeguard Iran's nuclear achievements.
In an executive order on Sunday, President Hassan Rouhani of Iran ordered Iran's Ministry of Foreign Affairs and Iran's Atomic Energy Organization (AEOI) to put into practice the recently ratified Parliament's Act mandating government to safeguard the country's nuclear rights and achievements.
The bill was passed in Majlis's plenary session on June 23 and became an Act after being approved by the Guardian Council on June 24.
Under the law, the results of ongoing negotiations with 5+1 will be valid if only sanctions are entirely and fully removed, as envisioned by the Joint Plan of Action (JPOA) signed in Lausanne city of Switzerland on April 2.
The termination of the sanctions must begin on the same day the agreement is signed.
Also the Act demands foreign minister to brief the Majlis with regular reports every six-month on implementation of the deal.
According to Iran's Constitution, once an Act of Majlis (Parliament) is approved by the Council of Guardians, it is sent to one of the heads of other two branches of Iran; Executive Branch (headed by the president) or Judiciary Branch (headed by the judiciary chief). If related to Executive Branch the president would put the responsibility on the appropriate government ministry or department to implement it. An approved act of Majlis is a law, enforced in all areas of the Islamic Republic of Iran where it is applicable.
------
...

Related articles based on keyword density
GLOBAL TOP 1000 WEBSITES 2016 – Ratak IT...
ratak.ir 16/03/2017 News
Ratak introduces global Top Websites of 2016 Data for table Top201702 1 1host2u.ir 1host2u.ir,Abarkooh,Armenia,Bahram 2,Bahram 3,Britain,Caesar,Carus,...View Details»

2018: Top 100 Websites – Ratak IT...
ratak.ir 16/05/2019 Internet-IT
Rank Url Points Tags 1 1host2u.ir 1host2u.ir,Abarkooh,Armenia, Bahram 2,Bahram 3,Britain,Caesar,Carus,Churchill,Google,History of Iran,Hormazd,Iran,...View Details»

Iran's 10th Parliament opens ...
en.mehrnews.com 28/05/2016 News
News ID: 3669624 - Sat 28 May 2016 - 09:47 Politics TEHRAN, May 28 (MNA) – The new round of Iran's parliament started work here on Saturday with a sp...View Details»

IRAN NUCLEAR TALKS STUMBLE, EXTENDED UNTIL JULY ...
hosted.ap.org 24/11/2014 News
BY MATTHEW LEE AND GEORGE JAHN ASSOCIATED PRESS VIENNA (AP) -- Still facing significant differences between the U.S. and Iran, negotiators gave up on...View Details»

Iran's president: Economy must be freed from enemy occupation ...
en.mehrnews.com 25/05/2015 Politics
News ID: 2759261 - Sun 24 May 2015 - 18:55 Politics TEHRAN, May 24 (MNA) – Iran's president has said the country must liberate its economic, trade a...View Details»

---
EOF