Persian leopard spotted in Western Alamut
Persian leopard spotted in Western Alamut ...
en.mehrnews.com
15/06/2017 Nature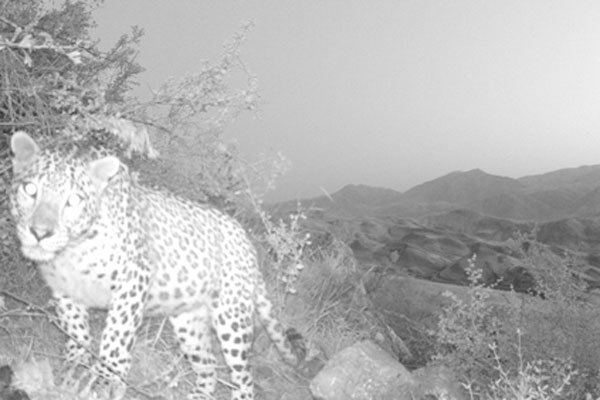 Keywords:#Alamut, #Culture, #Director_General, #En.mehrnews.com, #Environment, #Environmental_protection, #MNA, #News, #Persian, #Persian_leopard, #Qazvin, #Siavash, #Western

News ID: 4004401 - Wed 14 June 2017 - 11:34
Culture
QAZVIN, Jun. 14 (MNA) – Director General of Qazvin Environment Siavash Shamsipour announced spotting and imaging of a Persian leopard in Western Alamut District.
"Environmental protection unit officers managed to image a Persian leopard in the mountains, on patrol and control operations in Western Alamut District," Shamsipour said.
He underlined that the officers of protection units have spotted and taken photos of several Persian leopards in the region, and several reports of the public and the officers seeing these animals in the region suggests that the region is a wonderful habitat for these endangered and rare species in the country.
Unique ecology, plant diversity and deep valleys in the area have provided the best environmental conditions for species such as leopard, ibex, brown bears and other animals, which are unparalleled in the country, he added.
--- ---
...

Related articles based on keyword density
Fourth Persian leopard found dead ...
en.mehrnews.com 13/06/2015 Nature
News ID: 2776488 - Thu 11 June 2015 - 15:59 Culture BOJNORD, Jun. 11 (MNA) – Head of North Khorasan provincial Department of Environment office has a...View Details»

Oshtornakouh; a safe refuge for Persian Leopard ...
en.mehrnews.com 26/01/2017 Nature
News ID: 3887271 - Wed 25 January 2017 - 13:36 Culture KHORRAMABAD, Jan. 25 (MNA) – Oshtorankouh or Sanowbaran, a part of Zagros massifs with breath-...View Details»

Image of Persian leopard captured in Taleqan ...
en.mehrnews.com 08/01/2017 Nature
News ID: 3870400 - Sat 7 January 2017 - 11:50 Culture TALEGHAN, Jan. 07 (MNA) – Two environment collaborators managed to capture images of the Persia...View Details»

Wildlife subject of minister, ranger verbal fisting ...
en.mehrnews.com 15/02/2017 Nature
News ID: 3906232 - Mon 13 February 2017 - 21:34 Culture TEHRAN, Feb. 13 (MNA) – Minister of Industries, Mines, and Trade has lampooned environmentali...View Details»

Asiatic cheetah fine almost 16-fold ...
en.mehrnews.com 24/05/2015 Nature
News ID: 2758523 - Sat 23 May 2015 - 23:05 Culture TEHRAN, May 23 (MNA) – The Director-General of Department of Environmental Protection and Hunting ...View Details»

---
EOF