100,000 Cholera Cases, 789 deaths, in Yemen in Past Month: WHO ...
english.almanar.com.lb
09/06/2017 Health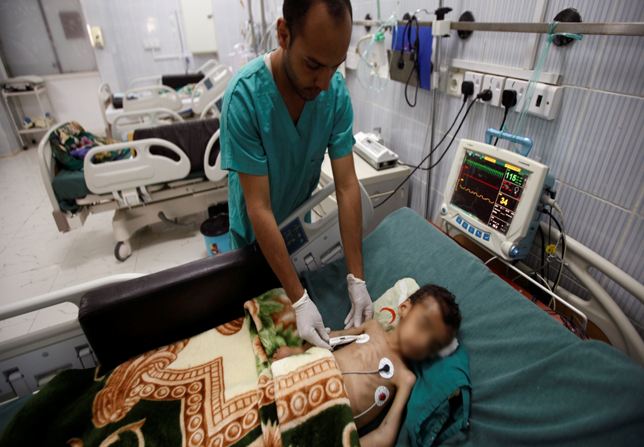 Keywords:#2015, #AFP, #Ansarullah, #Health, #Saudi, #WHO, #World_Health_Organization, #Yemen
A cholera outbreak in war-ravaged Yemen has killed nearly 800 people and infected more than 100,000 others in just over a month, the World Health Organization said Thursday.
The UN health agency said that since the end of April, 101,820 suspected cholera cases had been registered across 19 of the country's 21 governorates, including 789 deaths.
Yemen has been since March 2015 under a brutal aggression by Saudi-led coalition. Thousands of Yemenis have been injured and martyred in Saudi-led strikes, with the vast majority of them are civilians.
The coalition has been also imposing a blockade on the impoverished country's ports and airports as a part of his aggression which is aimed at restoring power to fugitive former president Abdrabbuh Mansour Hadi.
However, the revolutionary forces of Ansarullah and the popular committees have been heroically confronting the aggression with all means.
Source: AFP
--- ---
...

Related articles based on keyword density
GLOBAL TOP 1000 WEBSITES 2016 – Ratak IT...
ratak.ir 16/03/2017 News
Ratak introduces global Top Websites of 2016 Data for table Top201702 1 1host2u.ir 1host2u.ir,Abarkooh,Armenia,Bahram 2,Bahram 3,Britain,Caesar,Carus,...View Details»

Blackwater boss in Yemen killed ...
presstv.ir 10/12/2015 Military
A handout image made available by United Arab Emirates News Agency (WAM) on November 7, 2015 shows a UAE military convoy traveling from the Al-Hamra m...View Details»

War on Yemen: Western Media Make U-turn on "Iran Proxy Forces" ...
en.farsnews.com 21/05/2016 Military
TEHRAN (FNA)- Until yesterday, they used to claim that a coalition of 10 states led by Saudi Arabia is bombing Yemen in order to roll back "Iran proxy...View Details»

US-backed Saudi Forces Dropped Cluster Bombs on Yemeni Villages ...
globalresearch.ca 05/05/2015 Military
By Thomas Gaist Global Research, May 05, 2015 World Socialist Web Site http://www.wsws.org/en/articles/2015/05/05/yeme-m05.html War planes with the U...View Details»

Yemeni Houthis Fire Missile on Saudi Royal Palace to Highlight 'Steadf...
telesurtv.net 20/12/2017 Military
"The Saudi regime does not shy from pounding anything which has to do with Yemen... This is our answer to them and to the whole world," said the Hout...View Details»

---
EOF