Rouhani calls for Iran-EU coop. to resolve regional issues
Rouhani calls for Iran-EU coop. to resolve regional issues ...
en.mehrnews.com
11/04/2016 Politics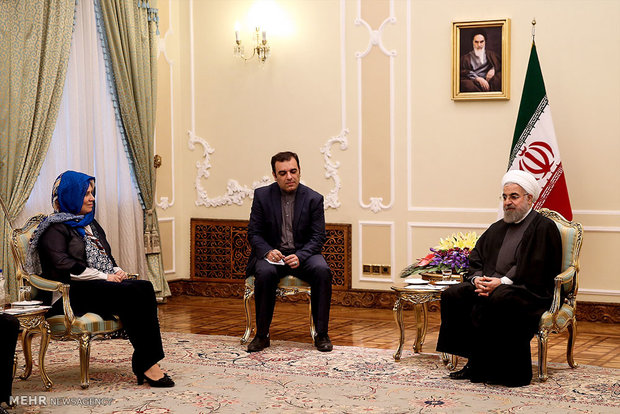 Keywords:#Africa, #EU, #En.mehrnews.com, #Estonia, #Europe, #European_Union, #Foreign_Minister, #Hassan_Rouhani, #Iran, #Iranian, #Islamic, #Islamic_Republic, #Javad_Zarif, #MNA, #Marina_Kaljurand, #Middle_East, #Mohammad_Javad_Zarif, #News, #North_Africa, #Politics, #President, #President_Rouhani, #Rouhani, #Tallinn, #Tehran

News ID: 3595019 - Sun 10 April 2016 - 14:56
Politics
TEHRAN, Apr. 10 (MNA) – Iranian President Hassan Rouhani said developing all-out cooperation between European Union and Iran will play an important role in resolving the complex regional and international issues.
Speaking during a meeting with Estonian Foreign Minister Marina Kaljurand in Tehran on Sunday, President Rouhani hailed the almost one-decade long relations between the two countries, saying "university students and professors exchange programs as well as providing the conditions for joint research can allow Tehran and Tallinn to have better cultural cooperation with one another."
Rouhani said the Islamic Republic is deeply concerned about the instability in some countries in North Africa and a number of other states in the Middle East, adding "the majority of these countries are gripped with the stabilizing moves by terrorist groups and efforts to restore security to these countries can actually help stability in the region and across the world."
The Iranian President stressed that if terrorist groups are not seriously confronted with, the scourge of terrorism will spread to other parts of the world, including Europe.
Rouhani further added that one field of cooperation between Iran and the EU is coordination and consultations for maintaining peace and security in the region, expressing hope that the talks would lead to constructive and effective cooperation toward the promotion of peace in Middle East.
The Estonian Foreign Minister Marina Kaljurand, for her part, deemed the Islamic Republic one of the major players on the regional and international scenes, saying her country is eager to expand cooperation with Iran in all areas of mutual interest.
Kaljurand then referred to her accompanying delegation comprising representatives of Estonia's major trade enterprises, saying "a window to new opportunities have opened toward Tehran-Tallinn expansion of ties, and this cooperation will definitely benefit both countries."
Heading a business and political delegation, Estonian Foreign Minister Marina Kaljurand arrived in Iran on Sunday to discuss issues of mutual interests as well as expansion of economic and trade interactions during her meetings with senior Iranian officials.
She also held talks with Iranian counterpart Mohammad Javad Zarif earlier today, during which the two sides discussed cooperation in different political, economic, parliamentary, cultural and academic fields.
--- ---
...

Related articles based on keyword density
IRAN NUCLEAR TALKS STUMBLE, EXTENDED UNTIL JULY ...
hosted.ap.org 24/11/2014 News
BY MATTHEW LEE AND GEORGE JAHN ASSOCIATED PRESS VIENNA (AP) -- Still facing significant differences between the U.S. and Iran, negotiators gave up on...View Details»

Global "Elders" urge Iran to build on nuclear deal - The Washington Po...
washingtonpost.com 28/01/2014 Politics
TEHRAN, Iran — The former head of the United Nations urged Iran Monday to build on a historic deal reached with world powers in November and work towa...View Details»

No JCPOA possible over Iran's defense program ...
en.mehrnews.com 10/04/2016 Politics
News ID: 3594805 - Sun 10 April 2016 - 12:53 Politics TEHRAN, Apr. 10 (MNA) – Underlining that no JCPOA is going to be signed over Iran's defense iss...View Details»

GLOBAL TOP 1000 WEBSITES 2016 – Ratak IT...
ratak.ir 16/03/2017 News
Ratak introduces global Top Websites of 2016 Data for table Top201702 1 1host2u.ir 1host2u.ir,Abarkooh,Armenia,Bahram 2,Bahram 3,Britain,Caesar,Carus,...View Details»

Middle East - Security Council debates ending UN sanctions on Iran - ...
france24.com 13/03/2015 News
Major world powers have begun talks about a UN Security Council resolution to lift UN sanctions on Iran if a nuclear agreement is struck with Tehran, ...View Details»

---
EOF