Investing in Iran? You'd Better Like Tea, Cake and Bureaucracy ...
bloomberg.com
06/10/2015 Economy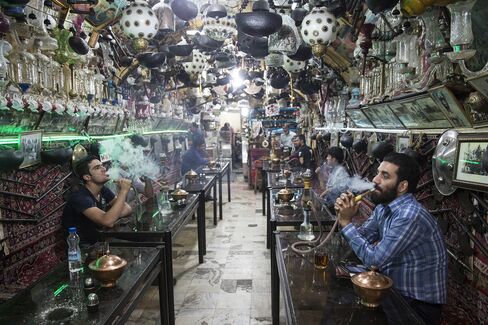 Keywords:#Ali_Khamenei, #Ayatollah, #Ayatollah_Ali_Khamenei, #BRIC, #Bloomberg, #Bloomberg.com, #Central_Bank_of_Iran, #E-mail, #Facebook, #France, #Geneva, #Germany, #Giulio_Haas, #Golnar, #Golnar_Motevalli, #Google, #Hassan_Rouhani, #IPO, #Iran, #Iranian, #Iranian_Revolutionary_Guards_Corps, #Japan, #Khamenei, #Ladane, #Ladane_Nasseri, #LinkedIn, #Mahdi, #Paris, #Poland, #President, #Privatization, #Reddit, #Revolutionary_Guards, #Rouhani, #Saeed_Laylaz, #Supreme_Leader, #Swiss, #Swiss_Ambassador, #Tehran, #Tehran_Stock_Exchange, #Twitter, #U.S._Embassy

By Ladane Nasseri
Golnar Motevalli


* * * Isolated from the global economy for the past decade and with a population of 80 million, Iran is a fertile ground for business. But international investors will have to cope with obstacles including government control of as much as 70 percent of the economy.
Photographer: Simon Dawson/Bloomberg
The state controls as much as 70 percent of the economy
Western investment needed as falling oil prices sap growth
Share on Facebook
Share on Twitter
Share on LinkedIn
Share on Reddit
Share on Google+
E-mail
When Mahdi Yazdizadeh tried to import and sell a type of high-tech robot that stocks warehouses, he found himself running from one Tehran office to the next, having to answer a stream of questions to get the needed approvals.
"The customs department doesn't have advance guidelines so they just pass you from person X to person Y because they haven't dealt with such things before," said Yazdizadeh, director of corporate business development at Shekofa Manesh Co., a leading retail group and franchisee in Iran. "You have to almost educate them."
His words are a warning for companies such as France's Alstom SA, Germany's RWE AG and others that have expressed interest in investing in Iran once economic sanctions are removed following a historic nuclear accord.
Isolated from the global economy for the past decade and with a population of 80 million, Iran is a fertile ground for business. But international investors will have to cope with obstacles including government control of as much as 70 percent of the economy, a judicial system deemed unfavorable to foreigners, a dual exchange rate and a culture in which tough negotiations often go hand-in-hand with doing business.
"There are multiple state actors in Iran," said Michel Makinsky, managing director of Ageromys International, a consulting firm in Paris that advises companies planning to work in Iran. "Add to this the Iranian culture of having to negotiate your way through, and this makes for a very complex market."
Since signing the nuclear deal on July 14, Iran has hosted at least 15 trade delegations, including from Germany, Japan, France and Poland, to lay the groundwork for trade accords after sanctions are removed from the oil-rich economy. The removal of sanctions is expected as early as the first quarter of 2016.


Iranian President Hassan Rouhani, who's seeking to deliver on his electoral promise to rekindle political ties with Western countries, says he welcomes the participation of foreign companies, to inject capital and technology. The principal channel: joint ventures with local companies. The idea is to ensure that Iranian jobs are created and also to make Iranian companies more competitive, said Mohsen Jalalpour, chairman of Iran's Chamber of Commerce and Industries, in an interview in his Tehran office.
"Our advice to European countries is that if you want to have a sustainable presence in Iran, look at accompanying and investing alongside companies in the private sector," he said, in a downtown office a stone's throw from Iran's oil ministry and some of the country's biggest banks. The area is also home to the sprawling complex of buildings that once housed the U.S. Embassy.
The lifting of sanctions will eventually release as much as $30 billion of Iran's foreign currency held abroad and allow it to ramp up oil exports. With oil prices down more than 50 percent in the past year, that still won't be enough for Iran to meet its investment needs or reach its target of sustained 8 percent economic growth over the next five years, said Saeed Laylaz, an Iranian economist whose views are close to those of Rouhani's government.
"I don't expect an explosion in foreign investment," he said. "It will be gradual and in leading sectors like oil, gas and petrochemicals where Iranians and Westerners already have experience working together."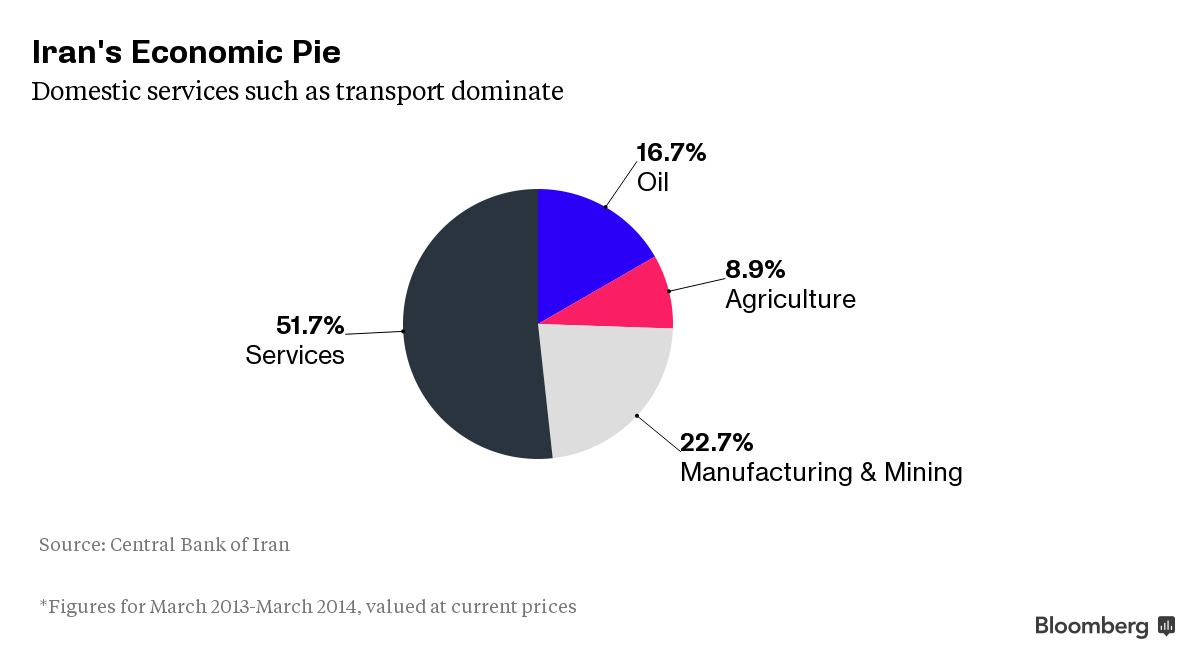 Even in those areas, government participation in the private sector may pose difficulties. A privatization program last decade saw dozens of previously government-owned companies floated on the Tehran Stock Exchange, including banks and petrochemical firms. Yet many of their majority shareholders are large state pension funds or conglomerates owned by state-run foundations or the Iranian Revolutionary Guards Corps.
About $46.4 billion of shares in government-owned companies have been sold off by various means, including through flotations on the stock exchange, since 2001, the Iran Privatization Organization (IPO) said in August. Almost 30 percent, more than $12 billion, of it has been transferred to the private sector in the past two years.
"As long as a policy is not adopted that doesn't nurture the private sector to the level that it seizes the whole of the economy, Iran will not witness the level of development that it needs," Mohammad Sadr Hasheminejad, chairman of Iran's Eqtesade Novin Bank and the Stratus Holding Group, one of the country's first privately owned conglomerates, said in his office in an affluent neighborhood of Tehran. Iran's economic "sickness won't be treated."
Economist Laylaz pointed to another obstacle: a dual exchange rate -- one announced by the Central Bank of Iran and another used on open markets -- that complicates operating in the country for foreign businesses.
Exchange Rates
"As an investor you should be able at any time to change your dollars in the open market but the government doesn't consider it legitimate," Laylaz said. "Only if the exchange rate is unified can foreign investment officially be brought inside."
For some investors the political risk of working in Iran still poses serious questions, particularly when it comes to guarantees on their capital. The current nuclear deal contains a "snap-back" mechanism that would reinstate sanctions if Iran is seen to have not kept to its terms.
"If that begins, make damn sure your contracts have some provisions in there," Charles Hollis, a former diplomat and managing director of FTI Consulting, said on Sept. 24 to a conference on investing in Iran.
Iranian officials have told visiting trade delegations that government regulations are designed to keep foreign investments safe using the central bank as a main guarantor. But questions remain over legal jurisdictions and how future disputes between a foreign commercial entity and the Iranian government can be resolved.
Investor Concerns
Pirouzan Parvine, a partner in the global law firm Dentons who was involved in advising France's Accor SA in building hotels in Iran, says a key is to negotiate with regard to Iranian customs.
"What's happening around the Iranian negotiating table? Tea, coffee, cake, fruit, maybe some kebab before another coffee," he told the Geneva conference, with hundreds of European companies attending. "On the Iranian side, we have to explain how business is done through intermediaries."
Iranian Supreme Leader Ayatollah Ali Khamenei, who has the final say on all affairs of the state, has called for boosting domestic production, along with increased competitiveness and efficiency. While that offers Rouhani political cover to forge more liberal economic policies, it also seeks to ease the concerns of conservatives who oppose widespread foreign ownership.
"There are a lot of opportunities in Iran," Giulio Haas, Swiss Ambassador to Iran, speaking at the conference at the Kempinski Hotel on Lake Geneva. "You will have to go after them cautiously. But Iran is a country that wants to develop. This is not a basket of gangsters, it is a BRIC in the making."
------
...

Related articles based on keyword density
GLOBAL TOP 1000 WEBSITES 2016 – Ratak IT...
ratak.ir 16/03/2017 News
Ratak introduces global Top Websites of 2016 Data for table Top201702 1 1host2u.ir 1host2u.ir,Abarkooh,Armenia,Bahram 2,Bahram 3,Britain,Caesar,Carus,...View Details»

IRAN NUCLEAR TALKS STUMBLE, EXTENDED UNTIL JULY ...
hosted.ap.org 24/11/2014 News
BY MATTHEW LEE AND GEORGE JAHN ASSOCIATED PRESS VIENNA (AP) -- Still facing significant differences between the U.S. and Iran, negotiators gave up on...View Details»

Airbus in Talks With Iran Over Deal to Produce Plane Components - Bloo...
bloomberg.com 18/03/2016 Auto
By Ladane Nasseri & Deena Kamel Negotiations follow order for 118 jetliners worth $27 billion Islamic republic has parts capability after yea...View Details»

Iranian Exiles Are Having Second Thoughts - Bloomberg Business...
bloomberg.com 07/08/2015 Politics
by Ladane Nasseri August 6, 2015 – Xanyar Kamangar feared he was out of luck. Due to fly from London to Tehran last month to host foreign investors,...View Details»

Iran nuclear deal complete after days of talks, ministers confirm | Wo...
theguardian.com 24/11/2013 Politics
Iran and six world powers reached a breakthrough deal on Sunday to curb Tehran's nuclear programme in exchange for limited sanctions relief. The agre...View Details»

---
EOF